In 1930, Ford primarily offered the Model A, which was available in several body styles and configurations. The Model A was the successor to the Model T and featured more sophisticated styling and improved performance. Here's a brief description of the Ford Model A:
Ford Model A (1927-1931): The Model A was designed to be a more comfortable and easier-to-drive car compared to the Model T. It was powered by a 3.3-liter inline-4 engine that produced around 40 horsepower. The Model A featured a 3-speed manual transmission, mechanical drum brakes, and a variety of body styles, which included:
2-door roadster
2-door coupe (Standard and Deluxe)
2-door sport coupe
2-door convertible cabriolet
2-door phaeton (Standard and Deluxe)
4-door phaeton (Standard and Deluxe)
2-door business coupe
4-door sedan (Standard and Deluxe)
4-door town sedan (Standard and Deluxe)
4-door convertible sedan
2-door Victoria coupe
2-door sedan delivery
2-door station wagon (woodie wagon)
2-door pickup truck
In addition to the Model A passenger cars, Ford also offered a commercial lineup of Model AA trucks, which were based on the Model A chassis but featured a heavier frame, larger wheels, and higher payload capacity. The Model AA trucks were available as a flatbed, stake bed, or panel delivery truck.
The Ford Model A was a popular and affordable vehicle for the time, offering improved performance, better handling, and updated styling compared to the Model T. The Model A played a significant role in solidifying Ford's reputation as an automaker and helped pave the way for future Ford models.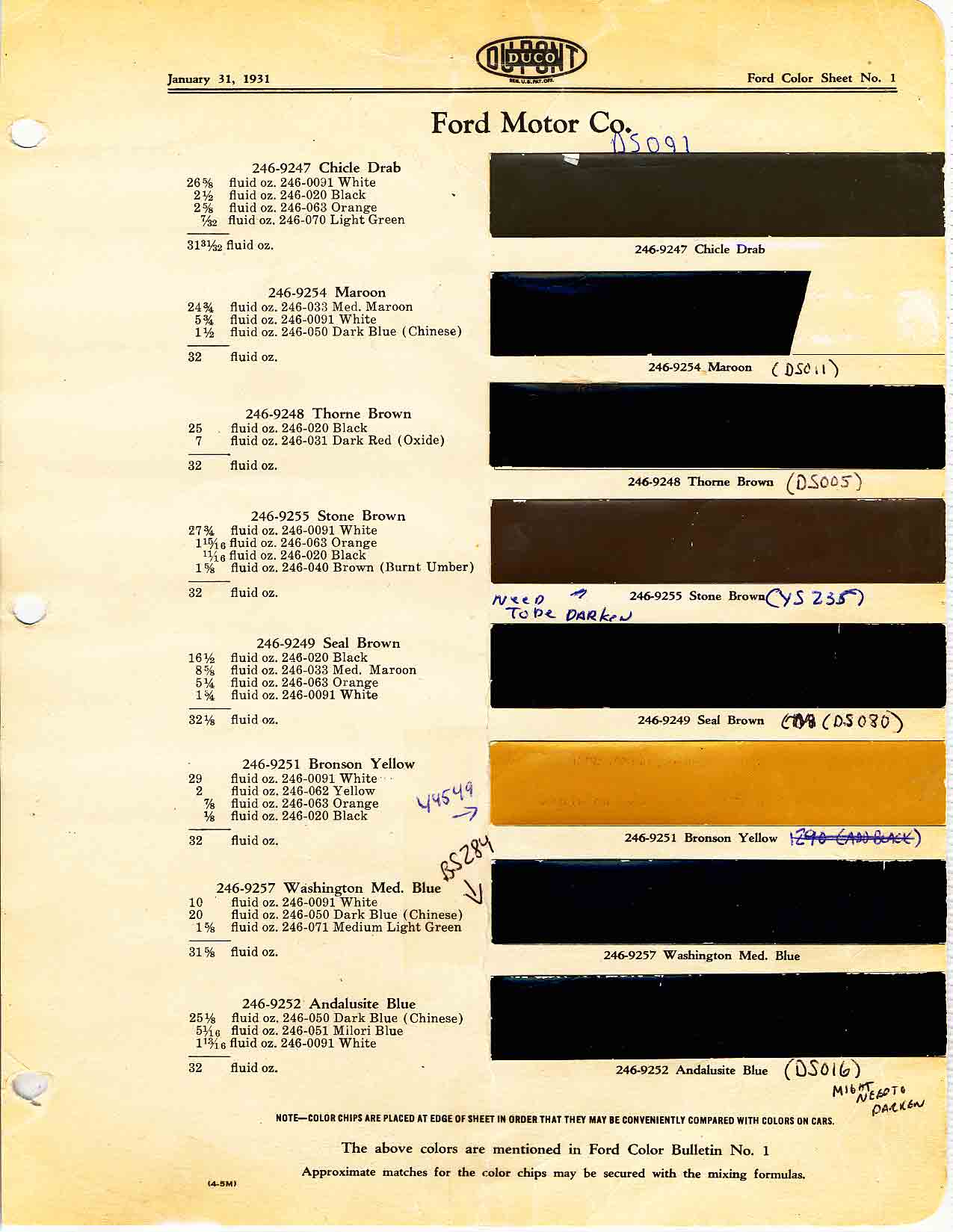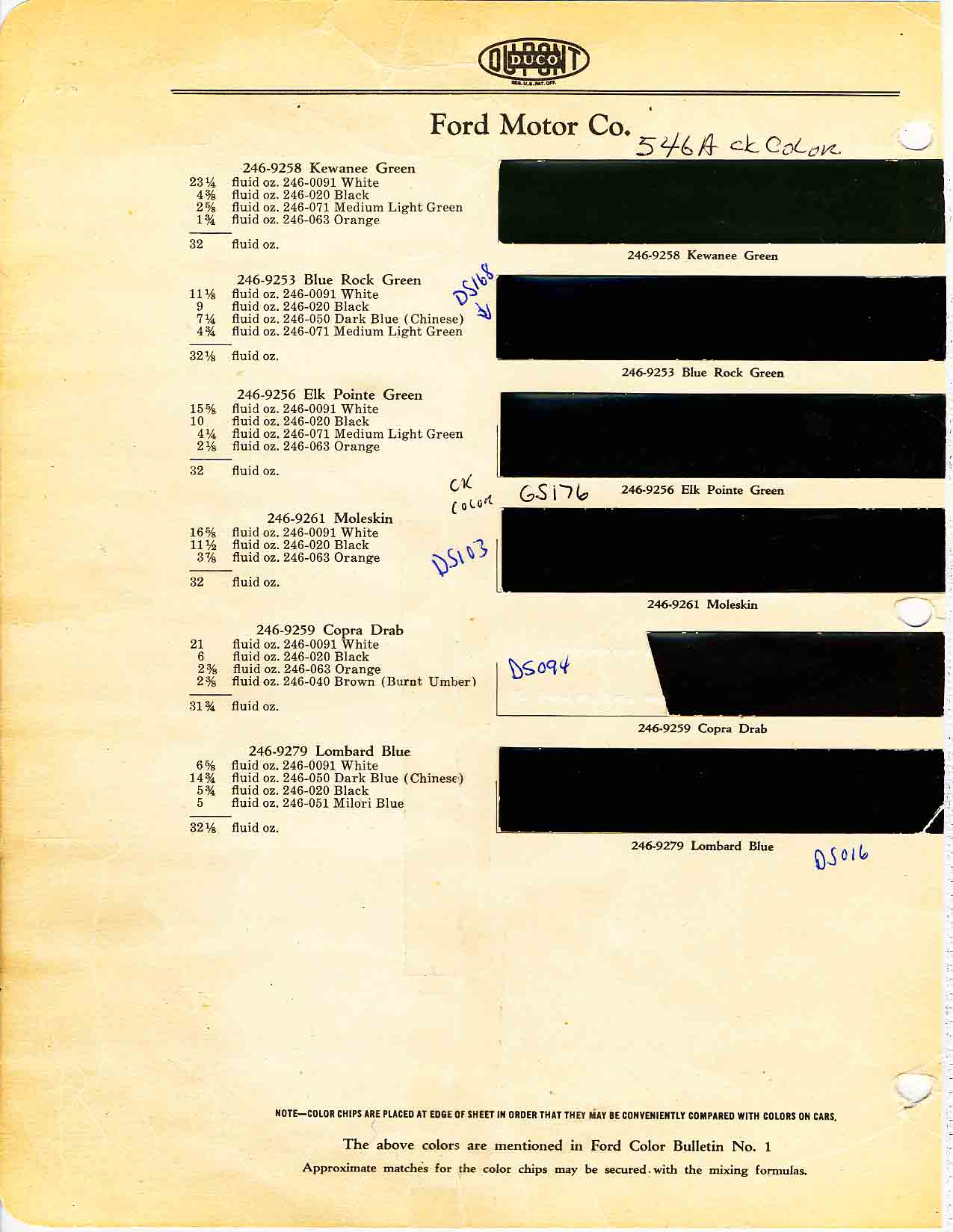 ---
Here are the links to most of the
Ford Motor Company's other pages we have here.

Ford, Lincoln & Mercury individual car pages
Aviator, C-Max, Continental, Econoline, Ecosport, Edge, Edsel, Escape, Expedition, Explorer, F150, F250-F350-F450, F650 and F750, Fiesta, Flex, Focus, Ford Chassis Cab, Ford Europe, Ford Europe 2, Ford Fleet, Ford Import, Ford Interior, Ford Main Page, Ford UK , Fusion, Grand Marquis, Lincoln, Mercury, MKZ, Model A, Mountaineer, Mustang, Nautilus, Taurus, Thunderbird, VSO, Winstar, Zephyr
Ford, Lincoln & Mercury paint chart pages by years
2015-2016-2017-2018-2019 Page 2010-2011-2012-2013-2014 Page 2005-2006-2007-2008-2009 Page
2000-2001-2002-2003-2004 Page 1995-1996-1997-1998-1999Page
1990-1991-1992-1993-1994 Page 1985-1986-1987-1988-1989 Page 1980-1981-1982-1983-1984 Page
1978 Mercury Page 1970 to 1979 Page 1960 to 1969 Page 1950 to 1959 Page
1949 Page 1948 Page 1947 Page 1946 Page 1942 Page 1941 Page 1940 Page 1939 Page 1938 Page 1937 Page
And there is MORE. These are a complete breakdown of Ford, Lincoln &
Mercury paint codes by year. They are sorted by alphabetical order by brand and then model.
2023, 2022, 2021, 2020, 2019, 2019, 2018, 2017, 2016, 2015, 2014, 2013, 2012, 2011, 2010, 2009, 2008, 2007, 2006, 2005, 2004
---