Alfa Romeo MiTo: A new compact, three-door hatchback introduced in 2008, with various engine options.
Alfa Romeo 147: A compact, three-door or five-door hatchback, which was still available in some markets alongside the new MiTo.
Alfa Romeo 159: A mid-size sedan and station wagon (Sportwagon), including the high-performance TI version.
Alfa Romeo GT: A 2+2 coupe, based on the 147 and 156 platform, with a range of engines.
Alfa Romeo Brera: A 2+2 coupe, offered with a range of engines, including the JTS, JTD, and V6 options.
Alfa Romeo Spider: A two-seater convertible, sharing its platform with the Brera, and offered with the same range of engines.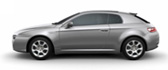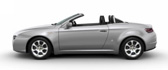 2008 Alfa Romeo Paint Codes to model look up page 1
2008 Alfa Romeo Paint Codes to model look up page 2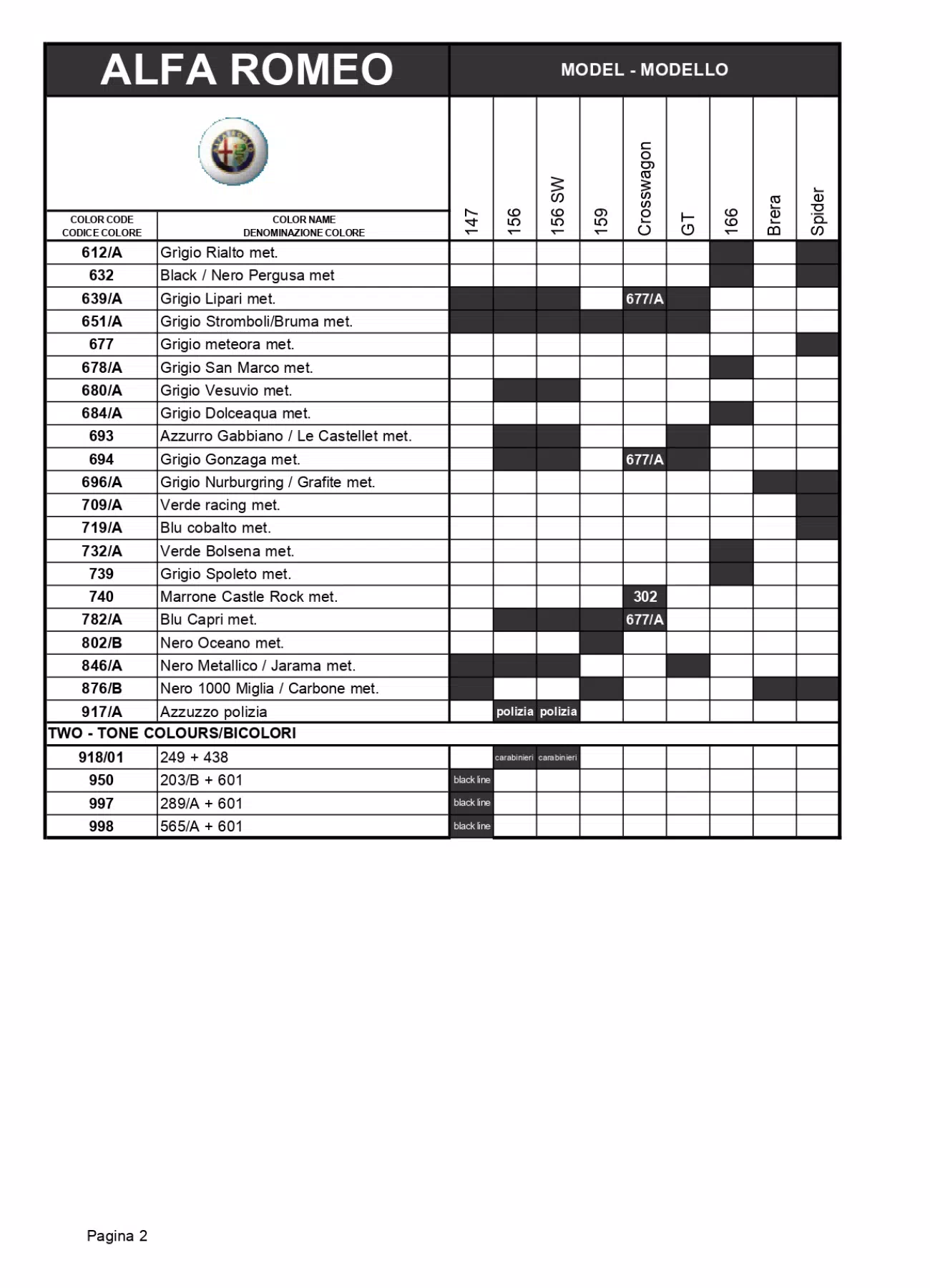 2008 Alfa Romeo 147 Paint Codes & Color Chart
2008 Paint Code Tables By Model
2008 Alfa Romeo 147 Paint Codes and Color Examples
| Year | MFG | Model | Color Code | Color Name | Color Code Example |
| --- | --- | --- | --- | --- | --- |
| Year | MFG | Model | Color Code | Color Name | Color Code Example |
| 2008 | Alfa Romeo | 147 | 130 | Rosso Alfa | |
| 2008 | Alfa Romeo | 147 | 134/B | Rosso Competizione Met | |
| 2008 | Alfa Romeo | 147 | 185/B | Rosso Giulietta | |
| 2008 | Alfa Romeo | 147 | 189/A | Bianco Conchiglia | |
| 2008 | Alfa Romeo | 147 | 201/A | Bianco Polare / Carrara | |
| 2008 | Alfa Romeo | 147 | 203/B | Blu Montecarlo / Francia Met | |
| 2008 | Alfa Romeo | 147 | 244/A | Verde Brooklands Met | |
| 2008 | Alfa Romeo | 147 | 263/A | Rosso Radicofani Met | |
| 2008 | Alfa Romeo | 147 | 264/A | Blu Digione Met | |
| 2008 | Alfa Romeo | 147 | 282/A | Azzurro Cristallo/Verde Irlanda Met | |
| 2008 | Alfa Romeo | 147 | 289/A | Rosso Alfa | |
| 2008 | Alfa Romeo | 147 | 395/B | Blu Atlantico Met | |
| 2008 | Alfa Romeo | 147 | 558/A | Arancio Pergusa Met | |
| 2008 | Alfa Romeo | 147 | 565/A | Argento Alfa / Grigio Argento Met | |
| 2008 | Alfa Romeo | 147 | 567/A | Blue Seta/Oltremare Met | |
| 2008 | Alfa Romeo | 147 | 583/A | Rosso Barolo / Rubino Met | |
| 2008 | Alfa Romeo | 147 | 601 | Black | |
| 2008 | Alfa Romeo | 147 | 603/B | Grigio Navona Met | |
| 2008 | Alfa Romeo | 147 | 613/A | Grigio Titanio Met | |
| 2008 | Alfa Romeo | 147 | 639/A | Grigio Kafla/Lipari Met | |
| 2008 | Alfa Romeo | 147 | 651/A | Grigio Stromboli/Bruma Met | |
| 2008 | Alfa Romeo | 147 | 846/A | Nero Metallico / Jarama Met | |
| 2008 | Alfa Romeo | 147 | 876/B | Nero 1000 Miglia / Carbonio Met | |
| 2008 | Alfa Romeo | 147 | 950/A | 203/B + 601 | 2 Tone Color Code |
| 2008 | Alfa Romeo | 147 | 951/A | 189/A + 601 | 2 Tone Color Code |
| 2008 | Alfa Romeo | 147 | 986 | 289/A + 601 | 2 Tone Color Code |
| 2008 | Alfa Romeo | 147 | 987 | 603/B + 601 | 2 Tone Color Code |
| 2008 | Alfa Romeo | 147 | 988 | 651/A + 601 | 2 Tone Color Code |
| 2008 | Alfa Romeo | 147 | 989 | 264/A + 601 | 2 Tone Color Code |
| 2008 | Alfa Romeo | 147 | 997 | 289/A + 601 | 2 Tone Color Code |
| 2008 | Alfa Romeo | 147 | 998 | 565/A + 601 | 2 Tone Color Code |
2008 Alfa Romeo 159 Paint Codes and Color Examples
| Year | MFG | Model | Color Code | Color Name | Color Code Example |
| --- | --- | --- | --- | --- | --- |
| Year | MFG | Model | Color Code | Color Name | Color Code Example |
| 2008 | Alfa Romeo | 159 | 568/A | Grigio Canna Di Fucile/Titanio Met | |
| 2008 | Alfa Romeo | 159 | 580/A | Verde Tundra/Muschio Met | |
| 2008 | Alfa Romeo | 159 | 581/A | Marrone Luci Di Bosco Met | |
| 2008 | Alfa Romeo | 159 | 660/B | Grigio Indaco Met | |
| 2008 | Alfa Romeo | 159 | 802/B | Nero Oceano Met | |
| 2008 | Alfa Romeo | 159 | 900/B | 289/A + 565/A | 2 Tone Color Code |
| 2008 | Alfa Romeo | 159 | 901/B | 185/B + 565/A | 2 Tone Color Code |
| 2008 | Alfa Romeo | 159 | 922/A | 203/B + 565/A | 2 Tone Color Code |
| 2008 | Alfa Romeo | 159 | 925/B | 876/B + 565/A | 2 Tone Color Code |
| 2008 | Alfa Romeo | 159 | 931/A | 201/A + 601 | 2 Tone Color Code |
| 2008 | Alfa Romeo | 159 | 201/A | Bianco Polare / Carrara | |
| 2008 | Alfa Romeo | 159 | 209/A | Bianco Elegante/Biancospino | |
| 2008 | Alfa Romeo | 159 | 289/A | Rosso Alfa | |
| 2008 | Alfa Romeo | 159 | 565/A | Argento Alfa / Grigio Argento Met | |
| 2008 | Alfa Romeo | 159 | 567/A | Blue Seta/Oltremare Met | |
| 2008 | Alfa Romeo | 159 | 583/A | Rosso Barolo / Rubino Met | |
| 2008 | Alfa Romeo | 159 | 601 | Black | |
| 2008 | Alfa Romeo | 159 | 651/A | Grigio Stromboli/Bruma Met | |
| 2008 | Alfa Romeo | 159 | 876/B | Nero 1000 Miglia / Carbonio Met | |
2008 Alfa Romeo 8C Paint Codes and Color Examples
| Year | MFG | Model | Color Code | Color Name | Color Code Example |
| --- | --- | --- | --- | --- | --- |
| Year | MFG | Model | Color Code | Color Name | Color Code Example |
| 2008 | Alfa Romeo | 8C | 180/B | Rosso Alfa | |
| 2008 | Alfa Romeo | 8C | 202/B | Rosso Competizione Met | |
| 2008 | Alfa Romeo | 8C | 533/B | Giallo Mica | |
| 2008 | Alfa Romeo | 8C | 818/B | Nero Mica | |
2008 Alfa Romeo Brera Paint Codes and Color Examples
| Year | MFG | Model | Color Code | Color Name | Color Code Example |
| --- | --- | --- | --- | --- | --- |
| Year | MFG | Model | Color Code | Color Name | Color Code Example |
| 2008 | Alfa Romeo | Brera | 203/B | Blu Montecarlo / Francia Met | |
| 2008 | Alfa Romeo | Brera | 289/A | Rosso Alfa | |
| 2008 | Alfa Romeo | Brera | 296/A | Bianco Divino/Ghiaccio | |
| 2008 | Alfa Romeo | Brera | 565/A | Argento Alfa / Grigio Argento Met | |
| 2008 | Alfa Romeo | Brera | 583/A | Rosso Barolo / Rubino Met | |
| 2008 | Alfa Romeo | Brera | 585/A | Grigio Francorchamps / Titanio Met | |
| 2008 | Alfa Romeo | Brera | 586/A | Blu Misano / Corsa Met | |
| 2008 | Alfa Romeo | Brera | 588/A | Oro Soave / Sabbia Del Deserto Met | |
| 2008 | Alfa Romeo | Brera | 601 | Black | |
| 2008 | Alfa Romeo | Brera | 696/A | Grigio Nurburgring / Grafite Met | |
| 2008 | Alfa Romeo | Brera | 876/B | Nero 1000 Miglia / Carbonio Met | |
2008 Alfa Romeo GT Paint Codes and Color Examples
| Year | MFG | Model | Color Code | Color Name | Color Code Example |
| --- | --- | --- | --- | --- | --- |
| Year | MFG | Model | Color Code | Color Name | Color Code Example |
| 2008 | Alfa Romeo | GT | 130 | Rosso Alfa | |
| 2008 | Alfa Romeo | GT | 201/A | Bianco Polare / Carrara | |
| 2008 | Alfa Romeo | GT | 282/A | Azzurro Cristallo/Verde Irlanda Met | |
| 2008 | Alfa Romeo | GT | 289/A | Rosso Alfa | |
| 2008 | Alfa Romeo | GT | 395/B | Blu Atlantico Met | |
| 2008 | Alfa Romeo | GT | 565/A | Argento Alfa / Grigio Argento Met | |
| 2008 | Alfa Romeo | GT | 567/A | Blue Seta/Oltremare Met | |
| 2008 | Alfa Romeo | GT | 580/A | Verde Tundra/Muschio Met | |
| 2008 | Alfa Romeo | GT | 581/A | Marrone Luci Di Bosco Met | |
| 2008 | Alfa Romeo | GT | 583/A | Rosso Barolo / Rubino Met | |
| 2008 | Alfa Romeo | GT | 601 | Black | |
| 2008 | Alfa Romeo | GT | 639/A | Grigio Kafla/Lipari Met | |
| 2008 | Alfa Romeo | GT | 651/A | Grigio Stromboli/Bruma Met | |
| 2008 | Alfa Romeo | GT | 846/A | Nero Metallico / Jarama Met | |
| 2008 | Alfa Romeo | GT | 876/B | Nero 1000 Miglia / Carbonio Met | |
2008 Alfa Romeo Mito Paint Codes and Color Examples
| Year | MFG | Model | Color Code | Color Name | Color Code Example |
| --- | --- | --- | --- | --- | --- |
| Year | MFG | Model | Color Code | Color Name | Color Code Example |
| 2008 | Alfa Romeo | MiTo | 185/B | Rosso Giulietta | |
| 2008 | Alfa Romeo | MiTo | 251/A | Bianco Elegante/Bioncospino | |
| 2008 | Alfa Romeo | MiTo | 252/A | Bianco Dorato Met | |
| 2008 | Alfa Romeo | MiTo | 289/A | Rosso Alfa | |
| 2008 | Alfa Romeo | MiTo | 417/B | Turchese | |
| 2008 | Alfa Romeo | MiTo | 437/B | Azzurro | |
| 2008 | Alfa Romeo | MiTo | 507/A | Giallo Faccia Tosta/Imola/Corsa | |
| 2008 | Alfa Romeo | MiTo | 595/A | Grigio Medio Impeccabile Met | |
| 2008 | Alfa Romeo | MiTo | 599/A | Blu Magnetico Met | |
| 2008 | Alfa Romeo | MiTo | 601 | Black | |
| 2008 | Alfa Romeo | MiTo | 612/A | Grigio Rialto/Techno Met | |
| 2008 | Alfa Romeo | MiTo | 645/A | Grigio Lilla Met | |
| 2008 | Alfa Romeo | MiTo | 669/A | Grigio Tecno Met | |
| 2008 | Alfa Romeo | MiTo | 805/B | Nero Etna Met | |
2008 Alfa Romeo Spider Paint Codes and Color Examples
| Year | MFG | Model | Color Code | Color Name | Color Code Example |
| --- | --- | --- | --- | --- | --- |
| Year | MFG | Model | Color Code | Color Name | Color Code Example |
| 2008 | Alfa Romeo | Spider | 117/B | Rosso Siena Met | |
| 2008 | Alfa Romeo | Spider | 130 | Rosso Alfa | |
| 2008 | Alfa Romeo | Spider | 414/B | Azzurro Nuvola Pearl | |
| 2008 | Alfa Romeo | Spider | 601 | Black | |
| 2008 | Alfa Romeo | Spider | 612/A | Grigio Rialto/Techno Met | |
| 2008 | Alfa Romeo | Spider | 632 | Black / Nero Pergusa Met | |
| 2008 | Alfa Romeo | Spider | 677 | Grigio Meteora Met | |
| 2008 | Alfa Romeo | Spider | 709/A | Verde Racing Met | |
| 2008 | Alfa Romeo | Spider | 719/A | Blu Cobalto Met | |