In 2011, Hyundai, the South Korean automotive manufacturer, offered a diverse lineup of vehicles.
Here's a list of some of the notable models they produced that year-
Hyundai Accent: A compact car known for its affordability and fuel efficiency.
Hyundai Elantra: A popular compact sedan, praised for its sleek design and efficient performance.
Hyundai Sonata: A mid-size sedan that stood out for its stylish design and comfortable interior.
Hyundai Azera: A full-size sedan offering more luxury and space than the Sonata.
Hyundai Tucson: A compact crossover SUV, appreciated for its handling and design.
Hyundai Santa Fe: A mid-size crossover SUV, popular for its spacious interior and versatility.
Hyundai Veracruz: A larger SUV, known for its comfortable seating and ample cargo space.
Hyundai Genesis: A luxury sedan, marking Hyundai's entry into the premium car market.
Hyundai Genesis Coupe: A sports coupe variant of the Genesis, known for its performance and style.
Hyundai Equus: Hyundai's flagship luxury sedan, designed to compete with high-end luxury vehicles.
Hyundai Veloster: A unique three-door compact hatchback introduced in 2011, known for its unconventional design.
Hyundai i10: A small city car, popular in international markets for its compact size and efficiency.
Hyundai i20: Another small car, slightly larger than the i10, known for its practicality and fuel efficiency.
Hyundai i30: A compact hatchback, recognized for its quality and value in the European market.
Hyundai i40: A mid-size car, primarily marketed in Europe, known for its spacious interior and stylish design.

2011 Hyundai Paint Codes and Color Chart Page 1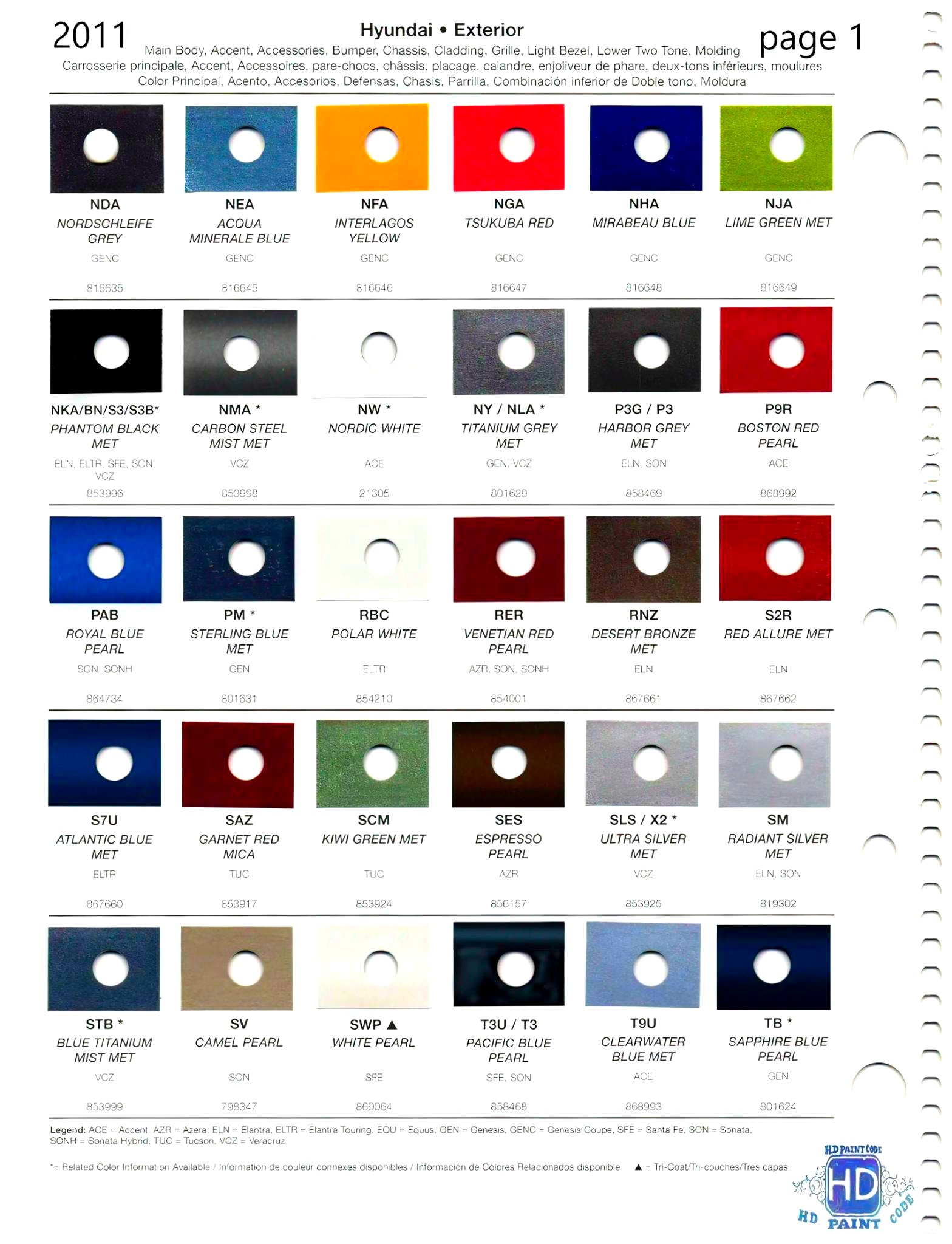 2011 Hyundai Paint Codes and Color Chart
Page 2
2011 Hyundai Paint Codes and Color Chart
Page 3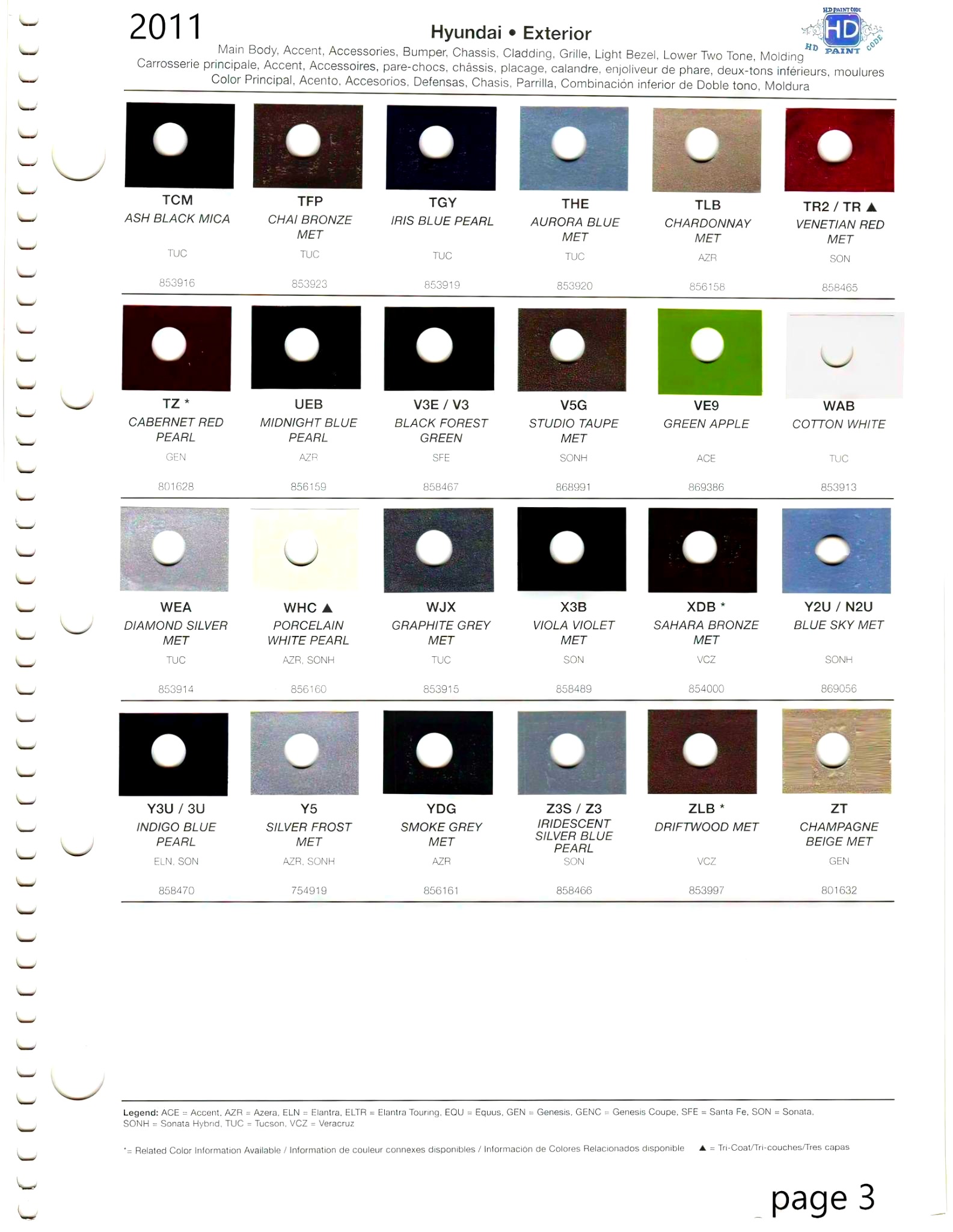 2011 Hyundai Paint Codes and Color Chart
Page 4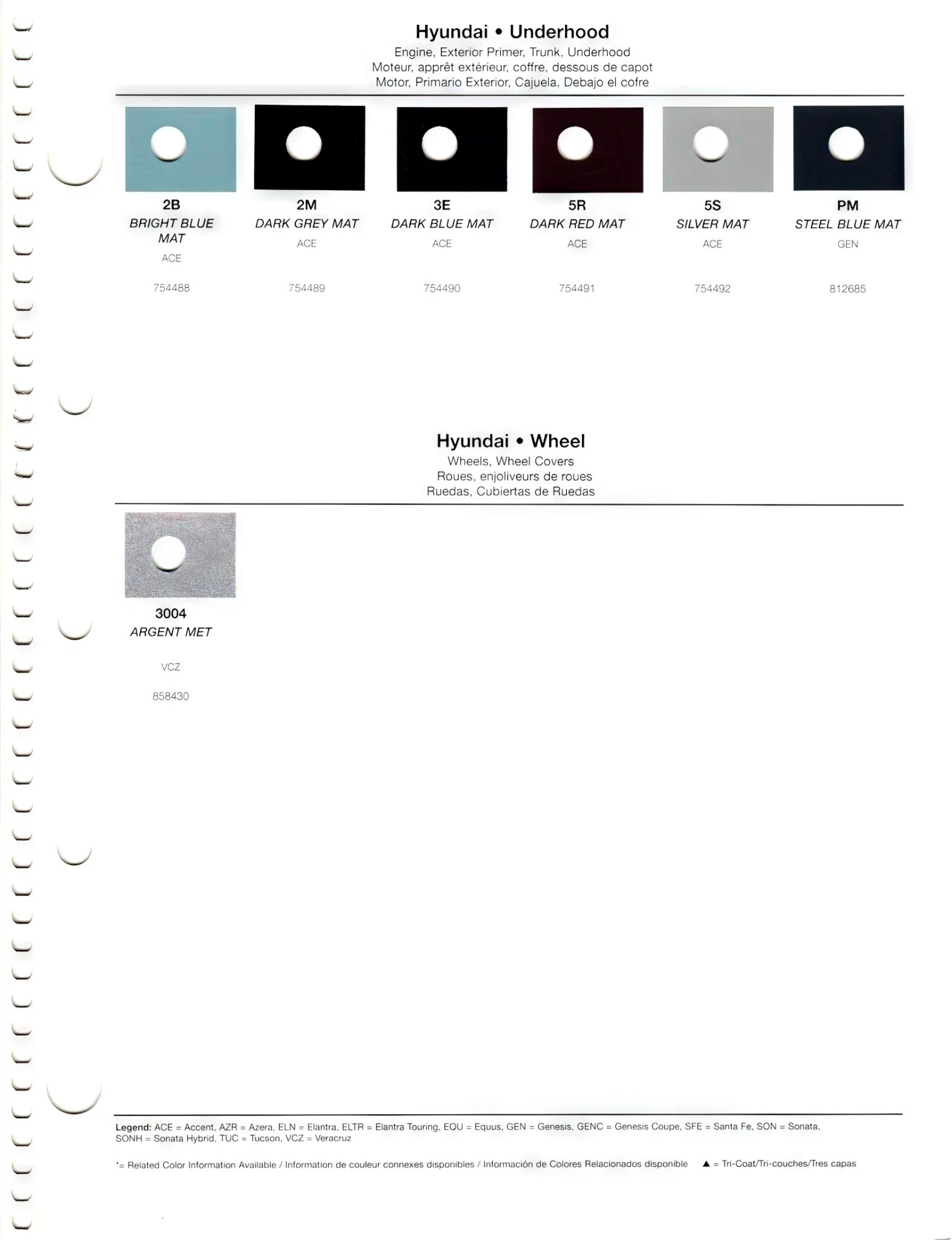 2011 Hyundai Paint Codes and Color Chart
Page 5

2011 Hyundai Equus Paint Codes & Color Chart
2011 Paint Code Tables By Model
2011 Hyundai Accent Paint Codes
| Year | MFG | Model | Paint Code | Color Name | Color Shade Example |
| --- | --- | --- | --- | --- | --- |
| 2011 | Hyundai | Accent | G8 | Apple Green Met | |
| 2011 | Hyundai | Accent | P9R | Boston Red Pearl | |
| 2011 | Hyundai | Accent | 2M | Charcoal Gray Mica | |
| 2011 | Hyundai | Accent | T9U | Clearwater Blue Met | |
| 2011 | Hyundai | Accent | 3E | Dark Sapphire Blue Mica | |
| 2011 | Hyundai | Accent | EB | Ebony Black | |
| 2011 | Hyundai | Accent | 2B | Ice Blue Met | |
| 2011 | Hyundai | Accent | NW | Nordic White | |
| 2011 | Hyundai | Accent | 5S | Space Silver Met | |
| 2011 | Hyundai | Accent | N8 | Tango Red Met | |
2011 Hyundai Azera Paint Codes
| Year | MFG | Model | Paint Code | Color Name | Color Shade Example |
| --- | --- | --- | --- | --- | --- |
| 2011 | Hyundai | Azera | AA | Black Onyx Pearl | |
| 2011 | Hyundai | Azera | TLB | Chardonnay Met | |
| 2011 | Hyundai | Azera | SES | Espresso Pearl | |
| 2011 | Hyundai | Azera | UEB | Midnight Blue Pearl | |
| 2011 | Hyundai | Azera | WHC | Porcelain White Pearl | |
| 2011 | Hyundai | Azera | Y5 | Silver Frost Met | |
| 2011 | Hyundai | Azera | YDG | Smoke Gray Met | |
| 2011 | Hyundai | Azera | RER | Venetian Red | |
2011 Hyundai Elantra Paint Codes
Year
MFG
Model
Paint Code
Color Name
Color Shade Example
2011
Hyundai
Elantra
TAK
Titanium Grey Met
2011
Hyundai
Elantra
N2U
Blue Sky Met
2011
Hyundai
Elantra
RNZ
Desert Bronze Met
2011
Hyundai
Elantra
P3G
Harbor Gray Met
2011
Hyundai
Elantra
Y3U
Indigo Blue Pearl
2011
Hyundai
Elantra
S3B / S3
Phantom Black Met
2011
Hyundai
Elantra
SM
Radiant Silver Met
2011
Hyundai
Elantra
S2R
Red Allure Met
2011
Hyundai
Elantra
N3S
Shimmering Silver Met
2011
Hyundai
Elantra
JR
White Pearl
2011 Hyundai Elantra Touring Paint Codes
| Year | MFG | Model | Paint Code | Color Name | Color Shade Example |
| --- | --- | --- | --- | --- | --- |
| 2011 | Hyundai | Elantra Touring | S7U | Atlantic Blue Met | |
| 2011 | Hyundai | Elantra Touring | NKA | Black Noir Pearl | |
| 2011 | Hyundai | Elantra Touring | MAD | Carbon Steel Mist Met | |
| 2011 | Hyundai | Elantra Touring | JA | Chilipepper Red | |
| 2011 | Hyundai | Elantra Touring | RBC | Polar White | |
| 2011 | Hyundai | Elantra Touring | 2R | Quicksilver Met | |
| 2011 | Hyundai | Elantra Touring | 2X | Regatta Blue Pearl | |
| 2011 | Hyundai | Elantra Touring | N3S | Shimmering Silver Met | |
| 2011 | Hyundai | Elantra Touring | N5S | Titanium Gray Met | |
| 2011 | Hyundai | Elantra Touring | BV | Vivid Blue Met | |
2011 Hyundai Equus Paint Codes
| Year | MFG | Model | Paint Code | Color Name | Color Shade Example |
| --- | --- | --- | --- | --- | --- |
| 2011 | Hyundai | Equus | AF | Black Noir Pearl | |
| 2011 | Hyundai | Equus | GOD | Granite Gray Met | |
| 2011 | Hyundai | Equus | AU | Platinum Met | |
| 2011 | Hyundai | Equus | AT | White Satin Pearl | |
2011 Hyundai Genesis Paint Codes
| Year | MFG | Model | Paint Code | Color Name | Color Shade Example |
| --- | --- | --- | --- | --- | --- |
| 2011 | Hyundai | Genesis | AF | Black Noir Pearl | |
| 2011 | Hyundai | Genesis | TZ | Cabernet Red Pearl | |
| 2011 | Hyundai | Genesis | ZT | Champagne Beige Met | |
| 2011 | Hyundai | Genesis | AU | Platinum Met | |
| 2011 | Hyundai | Genesis | TB | Sapphire Blue Pearl | |
| 2011 | Hyundai | Genesis | PM | Sterling Blue Met | |
| 2011 | Hyundai | Genesis | NY | Titanium Gray Met | |
| 2011 | Hyundai | Genesis | AT | White Satin Pearl | |
2011 Hyundai Genesis Coupe Paint Codes
| Year | MFG | Model | Paint Code | Color Name | Color Shade Example |
| --- | --- | --- | --- | --- | --- |
| 2011 | Hyundai | Genesis Coupe | NEA | Acqua Minerale Blue Met | |
| 2011 | Hyundai | Genesis Coupe | NBA | Bathurst Black Met | |
| 2011 | Hyundai | Genesis Coupe | NFA | Interlagos Yellow | |
| 2011 | Hyundai | Genesis Coupe | NAA | Karussell White | |
| 2011 | Hyundai | Genesis Coupe | NHA | Mirabeau Blue Met | |
| 2011 | Hyundai | Genesis Coupe | NDA | Grey Titanium Met | |
| 2011 | Hyundai | Genesis Coupe | NCA | Silverstone Met | |
| 2011 | Hyundai | Genesis Coupe | NGA | Tsukuba Red | |
2011 Hyundai Santa Fe Paint Codes
| Year | MFG | Model | Paint Code | Color Name | Color Shade Example |
| --- | --- | --- | --- | --- | --- |
| 2011 | Hyundai | Santa Fe | 3D | Silver Met | |
| 2011 | Hyundai | Santa Fe | H5 | Brown Pearl Met | |
| 2011 | Hyundai | Santa Fe | IM | Titanium Gray Met | |
| 2011 | Hyundai | Santa Fe | IY | Spicy Red Met | |
| 2011 | Hyundai | Santa Fe | S3B / S3 | Phantom Black Met | |
| 2011 | Hyundai | Santa Fe | SWP | White Pearl | |
| 2011 | Hyundai | Santa Fe | T3U / T3 | Pacific Blue Pearl | |
| 2011 | Hyundai | Santa Fe | V3E / V3 | Black Forest Green Met | |
2011 Hyundai Sonata Paint Codes
Year
MFG
Model
Paint Code
Color Name
Color Shade Example
2011
Hyundai
Sonata
AA
Black Onyx Pearl
2011
Hyundai
Sonata
X3B / X3
Black Plum Pearl
2011
Hyundai
Sonata
Y2U
Blue Sky Met
2011
Hyundai
Sonata
SV
Camel Beige Pearl
2011
Hyundai
Sonata
P3G
Harbor Gray Met
2011
Hyundai
Sonata
FHM
Hyper Silver Met
2011
Hyundai
Sonata
Y3U / 3U
Indigo Blue Pearl
2011
Hyundai
Sonata
Z3G
Iridescent Silver Blue Pearl
2011
Hyundai
Sonata
T3U / T3
Pacific Blue Pearl
2011
Hyundai
Sonata
S3B / S3
Phantom Black Met
2011
Hyundai
Sonata
WHC
Porcelain White Pearl
2011
Hyundai
Sonata
SM
Radiant Silver Met
2011
Hyundai
Sonata
PAB
Royal Blue Pearl
2011
Hyundai
Sonata
Y5
Silver Frost Met
2011
Hyundai
Sonata
V5G
Studio Taupe Met
2011
Hyundai
Sonata
TR2 / TR
Venetian Red Met
2011
Hyundai
Sonata
TR2
Venetian Red Met
2011
Hyundai
Sonata
RER
Venetian Red Pearl
2011
Hyundai
Sonata
JR
White Pearl
2011 Hyundai Tucson Paint Codes
| Year | MFG | Model | Paint Code | Color Name | Color Shade Example |
| --- | --- | --- | --- | --- | --- |
| 2011 | Hyundai | Tucson | TCM | Ash Black Mica | |
| 2011 | Hyundai | Tucson | THE | Aurora Blue Met | |
| 2011 | Hyundai | Tucson | TFP | Chai Bronze Met | |
| 2011 | Hyundai | Tucson | WAB | Cotton White | |
| 2011 | Hyundai | Tucson | WEA | Diamond Silver Met | |
| 2011 | Hyundai | Tucson | SAZ | Granet Red Mica | |
| 2011 | Hyundai | Tucson | WJX | Graphite Gray Met | |
| 2011 | Hyundai | Tucson | TGY | Iris Blue Mica | |
| 2011 | Hyundai | Tucson | SCM | Kiwi Green Met | |
2011 Hyundai Veracruz Paint Codes
| Year | MFG | Model | Paint Code | Color Name | Color Shade Example |
| --- | --- | --- | --- | --- | --- |
| 2011 | Hyundai | Veracruz | NKA | Black Noir Pearl | |
| 2011 | Hyundai | Veracruz | STB | Blue Titanium Mist Met | |
| 2011 | Hyundai | Veracruz | NMA | Carbon Steel Mist Met | |
| 2011 | Hyundai | Veracruz | 5Q | Deep Blue Mica | |
| 2011 | Hyundai | Veracruz | ZLB | Driftwood Met | |
| 2011 | Hyundai | Veracruz | XDB | Sahara Bronze Met | |
| 2011 | Hyundai | Veracruz | 3M | Vanilla White | |
| 2011 | Hyundai | Veracruz | SLS | Ultra Silver Met | |
2011 Hyundai EON Paint Codes
| Year | MFG | Model | Paint Code | Color Name | Color Shade Example |
| --- | --- | --- | --- | --- | --- |
| 2011 | Hyundai | EON | PHW | Coral White | |
| 2011 | Hyundai | EON | N3S | Sleek Silver Met | |
| 2011 | Hyundai | EON | P3W | Mushroom | |
| 2011 | Hyundai | EON | SAE | Dark Grey Met | |
| 2011 | Hyundai | EON | WAU | Pristine Blue | |
| 2011 | Hyundai | EON | NER | Maharajah Red | |
2011 Hyundai ix35 Paint Codes
| Year | MFG | Model | Paint Code | Color Name | Color Shade Example |
| --- | --- | --- | --- | --- | --- |
| 2011 | Hyundai | ix35 | YAC | Creamy White | |
| 2011 | Hyundai | ix35 | N3S | Sleek Silver Met | |
| 2011 | Hyundai | ix35 | XAF | Ice Blue Mica | |
| 2011 | Hyundai | ix35 | ZAR | Steel Grey II Met | |
| 2011 | Hyundai | ix35 | NKA | Phantom Black Pearl | |
2011 Hyundai i10 Paint Codes
| Year | MFG | Model | Paint Code | Color Name | Color Shade Example |
| --- | --- | --- | --- | --- | --- |
| 2011 | Hyundai | i10 | BH | Electric Red | |
| 2011 | Hyundai | i10 | HW | Crystal White | |
| 2011 | Hyundai | i10 | WGM | Sapphire Blue Pearl | |
| 2011 | Hyundai | i10 | NMA | Carbon Steel Mist Met | |
| 2011 | Hyundai | i10 | N3S | Sleek Silver Met | |
| 2011 | Hyundai | i10 | S3B / S3 | Phantom Black Met | |
| 2011 | Hyundai | i10 | VEA | Ice Blue Met | |
2011 Hyundai i20 Paint Codes
| Year | MFG | Model | Paint Code | Color Name | Color Shade Example |
| --- | --- | --- | --- | --- | --- |
| 2011 | Hyundai | i20 | GT | Crystal White | |
| 2011 | Hyundai | i20 | FG | Sleek Silver Met | |
| 2011 | Hyundai | i20 | U6 | Sparkle Blue | |
| 2011 | Hyundai | i20 | ZE | Dark Grey Met | |
| 2011 | Hyundai | i20 | FR | Black Diamond Met | |
| 2011 | Hyundai | i20 | DY | Silky Beige | |
| 2011 | Hyundai | i20 | 1F | Berry Red Met | |
2011 Hyundai i30 Paint Codes
| Year | MFG | Model | Paint Code | Color Name | Color Shade Example |
| --- | --- | --- | --- | --- | --- |
| 2011 | Hyundai | i30 | BV | Vivid Blue Met | |
| 2011 | Hyundai | i30 | MAD | Hyper Silver Met | |
| 2011 | Hyundai | i30 | N3S | Sleek Silver Met | |
| 2011 | Hyundai | i30 | JA | Shine Red | |
| 2011 | Hyundai | i30 | RBC | Ceramic White | |
| 2011 | Hyundai | i30 | N2U | Clean Blue Met | |
| 2011 | Hyundai | i30 | NKA | Phantom Black Pearl | |
2011 Hyundai i40 Wagon Paint Codes
| Year | MFG | Model | Paint Code | Color Name | Color Shade Example |
| --- | --- | --- | --- | --- | --- |
| 2011 | Hyundai | i40 Wagon | NCW | Creamy White | |
| 2011 | Hyundai | i40 Wagon | N3S | Sleek Silver Met | |
| 2011 | Hyundai | i40 Wagon | T6S | Titanium Gray Met | |
| 2011 | Hyundai | i40 Wagon | X6U | Blue Jade Met | |
| 2011 | Hyundai | i40 Wagon | YU6 | Blue Spirit | |
| 2011 | Hyundai | i40 Wagon | ZU6 | Blue Passion | |
| 2011 | Hyundai | i40 Wagon | VR6 | Red Awesome | |
| 2011 | Hyundai | i40 Wagon | W6Y | Eco Beige Met | |
| 2011 | Hyundai | i40 Wagon | NU6 | Blue Velvet | |
| 2011 | Hyundai | i40 Wagon | PW6 | White Crystal Met | |
| 2011 | Hyundai | i40 Wagon | S6G | Steel Grey Met | |
| 2011 | Hyundai | i40 Wagon | UB6 | Total Black Pearl | |
2011 Hyundai i40 Paint Codes
| Year | MFG | Model | Paint Code | Color Name | Color Shade Example |
| --- | --- | --- | --- | --- | --- |
| 2011 | Hyundai | i40 | YAC | Creamy White | |
| 2011 | Hyundai | i40 | T6S | Titanium Gray Met | |
| 2011 | Hyundai | i40 | N3S | Sleek Silver Met | |
| 2011 | Hyundai | i40 | S3B / S3 | Phantom Black Met | |
| 2011 | Hyundai | i40 | PW6 | White Crystal Met | |
2011 Hyundai ix20 Paint Codes
| Year | MFG | Model | Paint Code | Color Name | Color Shade Example |
| --- | --- | --- | --- | --- | --- |
| 2011 | Hyundai | ix20 | TCW | Creamy White | |
| 2011 | Hyundai | ix20 | RAH | Sleek Silver Met | |
| 2011 | Hyundai | ix20 | ZAR | Steel Grey II Met | |
| 2011 | Hyundai | ix20 | REH | Sienna Orange Met | |
| 2011 | Hyundai | ix20 | HAT | Glowing Red Pearl | |
| 2011 | Hyundai | ix20 | XAF | Ice Blue Mica | |
| 2011 | Hyundai | ix20 | WAE | Blueberry Blue Met | |
| 2011 | Hyundai | ix20 | NSW | Cashmere Brown Pearl | |
| 2011 | Hyundai | ix20 | PAE | Phantom Black Pearl | |
2011 Hyundai Elantra (ES) Paint Codes
| Year | MFG | Model | Paint Code | Color Name | Color Shade Example |
| --- | --- | --- | --- | --- | --- |
| 2011 | Hyundai | Elantra (ES) | N3S | Sleek Silver Met | |
| 2011 | Hyundai | Elantra (ES) | N2U | Clean Blue Met | |
| 2011 | Hyundai | Elantra (ES) | P7N | Bronze Met | |
| 2011 | Hyundai | Elantra (ES) | S2R | Red Allure Met | |
| 2011 | Hyundai | Elantra (ES) | NKA | Phantom Black Pearl | |
| 2011 | Hyundai | Elantra (ES) | RBC | Ceramic White | |
| 2011 | Hyundai | Elantra (ES) | N5S | Titanium Gray Met | |
| 2011 | Hyundai | Elantra (ES) | P3W | Mushroom Pearl | |
| 2011 | Hyundai | Elantra (ES) | R5N | Cooper Penny Pearl | |
| 2011 | Hyundai | Elantra (ES) | S7U | Atlantic Blue Met | |