In 2014, Fiat produced several models for different markets. Some of the most notable models include:
Fiat 500 - A compact city car, available in various trims and special editions.
Fiat 500L - A larger, more versatile version of the 500, with increased interior space and more practicality.
Fiat 500X - A compact crossover SUV, offering a blend of the 500's style with additional off-road capabilities.
Fiat Panda - A practical city car, known for its functional design and affordability.
Fiat Punto - A supermini or B-segment car, available in various trims and engine options.
Fiat Linea - A compact sedan, primarily targeted at markets such as Turkey, India, and Brazil.
Fiat Freemont - A mid-size crossover SUV, based on the Dodge Journey and marketed mainly in Europe.
Fiat Doblo - A panel van and leisure activity vehicle, offering versatility for both commercial and personal use.
Fiat Fiorino - A small commercial vehicle, designed for urban environments and available in panel van, combi, and passenger versions.
Fiat Ducato - A light commercial vehicle, available in various body styles and popular for conversions like campervans.
2014 Fiat Paint Codes and Color Chart
2014 Fiat Paint Codes and Color Chart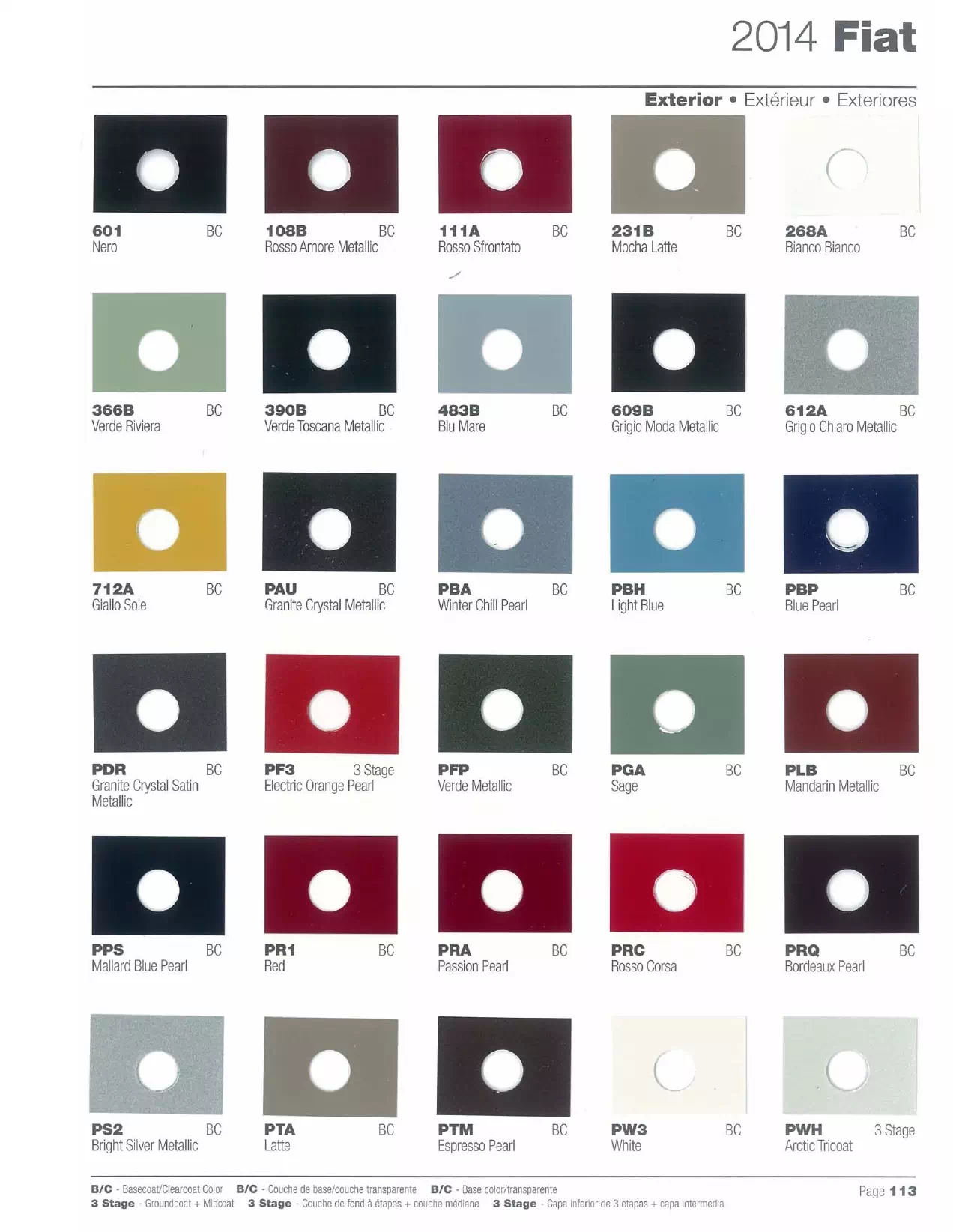 2014 Fiat Paint Codes and Color Chart
2014 Fiat Paint Codes and Color Chart

2014 Fiat Paint Codes and Color Chart

2014 Fiat Paint Codes and Color Chart

2014 Paint Code Tables By Model
2014 Fiat 500 Paint Codes
| Year | Mfg | Model | Paint Code | Color Name | Color Shade Example |
| --- | --- | --- | --- | --- | --- |
| Year | Mfg | Model | Paint Code | Color Name | Color Shade Example |
| 2014 | Fiat | 500 | 111/A | Passione Red | |
| 2014 | Fiat | 500 | 182/B | Rosa Diva Met | |
| 2014 | Fiat | 500 | 221/B | Nero Lux Met (By Gucci) | |
| 2014 | Fiat | 500 | 222/B | Biano Lux Met (By Gucci) | |
| 2014 | Fiat | 500 | 231/B | Beige Cappuccino / Moca Latte | |
| 2014 | Fiat | 500 | 268/A | Bossa Nova White | |
| 2014 | Fiat | 500 | 270/A | Bianco Gioioso Perla | |
| 2014 | Fiat | 500 | 372/A | Grigio Colosseo Met | |
| 2014 | Fiat | 500 | 407/C | Blu Mediterraneo Met | |
| 2014 | Fiat | 500 | 528/B | Viola Dolce Met | |
| 2014 | Fiat | 500 | 594/B | Nero Millemiglia Opaco (Stelth) | |
| 2014 | Fiat | 500 | 687/B | Blu Dipintodiblu Met | |
| 2014 | Fiat | 500 | 695/A | Grigio Quarzo/Sfrenato Met (PAJ) | |
| 2014 | Fiat | 500 | 712/A | Giallo Sole | |
| 2014 | Fiat | 500 | 735/A | Grigio imprevedibile | |
| 2014 | Fiat | 500 | 876/B | Nero Provocatore Met | |
| 2014 | Fiat | 500 | 952 | Azzurro Volare | |
| 2014 | Fiat | 500 | 239/B | 111/A + 268/A | |
| 2014 | Fiat | 500 | 269/B | 268/A + 952 | |
2014 Fiat 500C Paint Codes
| Year | Mfg | Model | Paint Code | Color Name | Color Shade Example |
| --- | --- | --- | --- | --- | --- |
| Year | Mfg | Model | Paint Code | Color Name | Color Shade Example |
| 2014 | Fiat | 500C | 111/A | Passione Red | |
| 2014 | Fiat | 500C | 182/B | Rosa Diva Met | |
| 2014 | Fiat | 500C | 221/B | Nero Lux Met (By Gucci) | |
| 2014 | Fiat | 500C | 222/B | Biano Lux Met (By Gucci) | |
| 2014 | Fiat | 500C | 231/B | Beige Cappuccino / Moca Latte | |
| 2014 | Fiat | 500C | 268/A | Bossa Nova White | |
| 2014 | Fiat | 500C | 270/A | Bianco Gioioso Perla | |
| 2014 | Fiat | 500C | 372/A | Grigio Colosseo Met | |
| 2014 | Fiat | 500C | 407/C | Blu Mediterraneo Met | |
| 2014 | Fiat | 500C | 528/B | Viola Dolce Met | |
| 2014 | Fiat | 500C | 687/B | Blu Dipintodiblu Met | |
| 2014 | Fiat | 500C | 695/A | Grigio Quarzo/Sfrenato Met (PAJ) | |
| 2014 | Fiat | 500C | 712/A | Giallo Sole | |
| 2014 | Fiat | 500C | 735/A | Grigio imprevedibile | |
| 2014 | Fiat | 500C | 876/B | Nero Provocatore Met | |
| 2014 | Fiat | 500C | 952 | Azzurro Volare | |
2014 Fiat 500L Paint Codes
| Year | Mfg | Model | Paint Code | Color Name | Color Shade Example |
| --- | --- | --- | --- | --- | --- |
| Year | Mfg | Model | Paint Code | Color Name | Color Shade Example |
| 2014 | Fiat | 500L | 108/B | Rosso Amore Met | |
| 2014 | Fiat | 500L | 366/B | Verde Riviera | |
| 2014 | Fiat | 500L | 390/B | Verde Toscana Met (4Sa - Dpt) | |
| 2014 | Fiat | 500L | 483/B | Blu Mare | |
| 2014 | Fiat | 500L | 601 | Solid Black | |
| 2014 | Fiat | 500L | 609/B | Grigio Moda Met | |
| 2014 | Fiat | 500L | 612/A | Grigio Palladio/Garbato Met | |
| 2014 | Fiat | 500L | 811/A | 483/B + 601 | |
| 2014 | Fiat | 500L | 812/B | Combination of 231 & 601 | |
| 2014 | Fiat | 500L | 822/B | 366/B + 601 | |
| 2014 | Fiat | 500L | 826/B | 108/B + 601 | |
| 2014 | Fiat | 500L | 909/B | 601 + 268/A | |
| 2014 | Fiat | 500L | 911/B | 483/B + 268/A | |
| 2014 | Fiat | 500L | 912/B | 231/B + 268/A | |
| 2014 | Fiat | 500L | 921/A | 366/B + 268/A | |
| 2014 | Fiat | 500L | 923/A | 609/B + 268/A | |
| 2014 | Fiat | 500L | 926/A | 108/B + 268/A | |
| 2014 | Fiat | 500L | 930/B | 390/B + 268/A | |
| 2014 | Fiat | 500L | 934/A | 268/A + 601 | |
| 2014 | Fiat | 500L | 946/A | 111/A + 601 | |
| 2014 | Fiat | 500L | 957 | 612/A + 601 | |
| 2014 | Fiat | 500L | 239/B | 111/A + 268/A | |
| 2014 | Fiat | 500L | 111/A | Passione Red | |
| 2014 | Fiat | 500L | 231/B | Beige Cappuccino / Moca Latte | |
| 2014 | Fiat | 500L | 268/A | Bossa Nova White | |
2014 Fiat Bravo Paint Codes
| Year | Mfg | Model | Paint Code | Color Name | Color Shade Example |
| --- | --- | --- | --- | --- | --- |
| Year | Mfg | Model | Paint Code | Color Name | Color Shade Example |
| 2014 | Fiat | Bravo | 106/B | Rosso Maranello Met | |
| 2014 | Fiat | Bravo | 284/A | Grigio Undergroundo Met | |
| 2014 | Fiat | Bravo | 289/A | Rosso Superbo/Rosso Passione | |
| 2014 | Fiat | Bravo | 296/A | Bianco Divino | |
| 2014 | Fiat | Bravo | 318/B | Magnesio Grey Met | |
| 2014 | Fiat | Bravo | 487/B | Blu Notturno Met | |
| 2014 | Fiat | Bravo | 620/B | Grigio Argentovivo met | |
| 2014 | Fiat | Bravo | 805/B | Nero Intrepido Met | |
2014 Fiat Doblo Paint Codes
| Year | Mfg | Model | Paint Code | Color Name | Color Shade Example |
| --- | --- | --- | --- | --- | --- |
| Year | Mfg | Model | Paint Code | Color Name | Color Shade Example |
| 2014 | Fiat | Doblò | 168 | Rosso Pimpante | |
| 2014 | Fiat | Doblò | 249 | Bianco Banchisa/Santarellina | |
| 2014 | Fiat | Doblò | 261/A | Perla Vasari/Avorio Familiare Met | |
| 2014 | Fiat | Doblò | 293/A | Rosso Esuberante Met | |
| 2014 | Fiat | Doblò | 448/B | Azzurro Idealista Met | |
| 2014 | Fiat | Doblò | 479/A | Blue Line | |
| 2014 | Fiat | Doblò | 590/A | Bordeaux Semiserio Met | |
| 2014 | Fiat | Doblò | 595/A | Grigio medio/impeccabile met | |
| 2014 | Fiat | Doblò | 632 | Black Met | |
| 2014 | Fiat | Doblò | 487/B | Blu Notturno Met | |
| 2014 | Fiat | Doblò | 612/A | Grigio Palladio/Garbato Met | |
2014 Fiat Doblo cargo Paint Codes
| Year | Mfg | Model | Paint Code | Color Name | Color Shade Example |
| --- | --- | --- | --- | --- | --- |
| Year | Mfg | Model | Paint Code | Color Name | Color Shade Example |
| 2014 | Fiat | Doblò cargo | 261/A | Perla Vasari/Avorio Familiare Met | |
| 2014 | Fiat | Doblò cargo | 590/A | Bordeaux Semiserio Met | |
| 2014 | Fiat | Doblò cargo | 595/A | Grigio medio/impeccabile met | |
| 2014 | Fiat | Doblò cargo | 168 | Rosso Pimpante | |
| 2014 | Fiat | Doblò cargo | 249 | Bianco Banchisa/Santarellina | |
| 2014 | Fiat | Doblò cargo | 293/A | Rosso Esuberante Met | |
| 2014 | Fiat | Doblò cargo | 448/B | Azzurro Idealista Met | |
| 2014 | Fiat | Doblò cargo | 479/A | Blue Line | |
| 2014 | Fiat | Doblò cargo | 632 | Black Met | |
| 2014 | Fiat | Doblò cargo | 487/B | Blu Notturno Met | |
| 2014 | Fiat | Doblò cargo | 612/A | Grigio Palladio/Garbato Met | |
2014 Fiat Ducato Paint Codes
| Year | Mfg | Model | Paint Code | Color Name | Color Shade Example |
| --- | --- | --- | --- | --- | --- |
| Year | Mfg | Model | Paint Code | Color Name | Color Shade Example |
| 2014 | Fiat | Ducato | 199/A | Red | |
| 2014 | Fiat | Ducato | 453/A | Lake Blue Met | |
| 2014 | Fiat | Ducato | 455/A | Blu Imperiale | |
| 2014 | Fiat | Ducato | 506 | Golden White Beige | |
| 2014 | Fiat | Ducato | 600 | Atlantic Grey Met | |
| 2014 | Fiat | Ducato | 611/A | Aluminum Grey Met | |
| 2014 | Fiat | Ducato | 691/A | Slate Grey Met | |
| 2014 | Fiat | Ducato | 249 | Bianco Banchisa/Santarellina | |
| 2014 | Fiat | Ducato | 479/A | Blue Line | |
| 2014 | Fiat | Ducato | 632 | Black Met | |
| 2014 | Fiat | Ducato | 549/B | Ducato White | |
2014 Fiat Fiorino Paint Codes
| Year | Mfg | Model | Paint Code | Color Name | Color Shade Example |
| --- | --- | --- | --- | --- | --- |
| Year | Mfg | Model | Paint Code | Color Name | Color Shade Example |
| 2014 | Fiat | Fiorino | 118/B | Amaranto Fascinoso Met | |
| 2014 | Fiat | Fiorino | 355/A | Verde Yesili/Buon Umore Met | |
| 2014 | Fiat | Fiorino | 551/A | Arancio spassoso/esibizionista | |
| 2014 | Fiat | Fiorino | 168 | Rosso Pimpante | |
| 2014 | Fiat | Fiorino | 293/A | Rosso Esuberante Met | |
| 2014 | Fiat | Fiorino | 487/B | Blu Notturno Met | |
| 2014 | Fiat | Fiorino | 612/A | Grigio Palladio/Garbato Met | |
| 2014 | Fiat | Fiorino | 249 | Bianco Banchisa/Santarellina | |
| 2014 | Fiat | Fiorino | 479/A | Blue Line | |
| 2014 | Fiat | Fiorino | 632 | Black Met | |
2014 Fiat Freemont Paint Codes
| Year | Mfg | Model | Paint Code | Color Name | Color Shade Example |
| --- | --- | --- | --- | --- | --- |
| Year | Mfg | Model | Paint Code | Color Name | Color Shade Example |
| 2014 | Fiat | Freemont | 370/A | Verde Met (by Diesel) | |
| 2014 | Fiat | Freemont | 713/A | Bronzo Met (by Diesel)/Marrone Escursionista | |
| 2014 | Fiat | Freemont | PXR | Brilliant Black Crystal | |
| 2014 | Fiat | Freemont | PBV | Blackberry Met | |
| 2014 | Fiat | Freemont | PPS | Mallard Blue Met | |
| 2014 | Fiat | Freemont | PRP | Deep Cherry Red Crystal Met | |
| 2014 | Fiat | Freemont | PS2 | Bright Silver Met | |
| 2014 | Fiat | Freemont | PWL | White Gold Met | |
| 2014 | Fiat | Freemont | 595/A | Grigio medio/impeccabile met | |
| 2014 | Fiat | Freemont | 270/A | Bianco Gioioso Perla | |
| 2014 | Fiat | Freemont | 695/A | Grigio Quarzo/Sfrenato Met (PAJ) | |
| 2014 | Fiat | Freemont | 268/A | Bossa Nova White | |
2014 Fiat Linea Paint Codes
| Year | Mfg | Model | Paint Code | Color Name | Color Shade Example |
| --- | --- | --- | --- | --- | --- |
| Year | Mfg | Model | Paint Code | Color Name | Color Shade Example |
| 2014 | Fiat | Linea | 394 | Bronzo Scuro | |
| 2014 | Fiat | Linea | | Tuscan Wine Pearl | |
| 2014 | Fiat | Linea | 484/B | Fox Trot Azure | |
| 2014 | Fiat | Linea | | Sunbeam Beige | |
| 2014 | Fiat | Linea | 268 | Bossa Nova White | |
| 2014 | Fiat | Linea | 787 | Hip Hop Black Met | |
| 2014 | Fiat | Linea | 612 | Minimal Grey | |
| 2014 | Fiat | Linea | 293 | Flamenco Red Pearl | |
2014 Fiat Panda Paint Codes
| Year | Mfg | Model | Paint Code | Color Name | Color Shade Example |
| --- | --- | --- | --- | --- | --- |
| Year | Mfg | Model | Paint Code | Color Name | Color Shade Example |
| 2014 | Fiat | Panda | 147/B | Rosso Gioioso Met | |
| 2014 | Fiat | Panda | 184/B | Viola Profumato Met | |
| 2014 | Fiat | Panda | 223/B | Bianco Sincero | |
| 2014 | Fiat | Panda | 374/C | Tuscany Green Met | |
| 2014 | Fiat | Panda | 403/C | Turchese Sognante | |
| 2014 | Fiat | Panda | 516/A | Siliclian Orange | |
| 2014 | Fiat | Panda | 565/A | Active Grey Met | |
| 2014 | Fiat | Panda | 567/A | Mediterranean Blue Met | |
| 2014 | Fiat | Panda | 715/A | Beige Accogliente/Caffelatte | |
| 2014 | Fiat | Panda | 833/A | Marrone Avvolgente | |
| 2014 | Fiat | Panda | 289/A | Rosso Superbo/Rosso Passione | |
| 2014 | Fiat | Panda | 601 | Darkwave Black | |
| 2014 | Fiat | Panda | 222/B | Biano Lux Met (By Gucci) | |
2014 Fiat Punto Paint Codes
Year
Mfg
Model
Paint Code
Color Name
Color Shade Example
Year
Mfg
Model
Paint Code
Color Name
Color Shade Example
2014
Fiat
Punto
176/A
Exotica Red
2014
Fiat
Punto
326/C
Blu Profondo Met
2014
Fiat
Punto
341/B
Verde Energetico Met
2014
Fiat
Punto
348/B
Lyrical Grey Met
2014
Fiat
Punto
475/A
Rock n Roll Blue
2014
Fiat
Punto
494/B
Blu temerario/Azzurro Italia met
2014
Fiat
Punto
562/B
Arancio Spriz/Arancio Sicilia
2014
Fiat
Punto
679/B
Underground Grey Met
2014
Fiat
Punto
750/A
Nero Rubacuori Met
2014
Fiat
Punto
866/B
Bordeaux Opera Met
2014
Fiat
Punto
877/B
296/A + 876/B
2014
Fiat
Punto
881/B
176/A + 876/B
2014
Fiat
Punto
892/B
562/B + 876/B
2014
Fiat
Punto
897/B
348/B + 876/B
2014
Fiat
Punto
898/B
679/B + 876/B
2014
Fiat
Punto
296/A
Ambient White
2014
Fiat
Punto
876/B
Crossover Black Met
2014 Fiat Qubo Paint Codes
| Year | Mfg | Model | Paint Code | Color Name | Color Shade Example |
| --- | --- | --- | --- | --- | --- |
| Year | Mfg | Model | Paint Code | Color Name | Color Shade Example |
| 2014 | Fiat | Qubo | 112/B | Arancio Intraprendente Met | |
| 2014 | Fiat | Qubo | 355/A | Verde Yesili/Buon Umore Met | |
| 2014 | Fiat | Qubo | 551/A | Arancio spassoso/esibizionista | |
| 2014 | Fiat | Qubo | 168 | Rosso Pimpante | |
| 2014 | Fiat | Qubo | 249 | Bianco Banchisa/Santarellina | |
| 2014 | Fiat | Qubo | 293/A | Rosso Esuberante Met | |
| 2014 | Fiat | Qubo | 448/B | Azzurro Idealista Met | |
| 2014 | Fiat | Qubo | 479/A | Blue Line | |
| 2014 | Fiat | Qubo | 632 | Black Met | |
| 2014 | Fiat | Qubo | 487/B | Blu Notturno Met | |
| 2014 | Fiat | Qubo | 612/A | Grigio Palladio/Garbato Met | |
2014 Fiat Scudo Paint Codes
| Year | Mfg | Model | Paint Code | Color Name | Color Shade Example |
| --- | --- | --- | --- | --- | --- |
| Year | Mfg | Model | Paint Code | Color Name | Color Shade Example |
| 2014 | Fiat | Scudo | 194/A | Rosso Nizza | |
| 2014 | Fiat | Scudo | 405/B | Blu kyanos met | |
| 2014 | Fiat | Scudo | 667/A | Grigio Aster Met | |
| 2014 | Fiat | Scudo | 685 | Grigio Juvarra/Quarzo/Affidabile Met | |
| 2014 | Fiat | Scudo | 455/A | Blu Imperiale | |
| 2014 | Fiat | Scudo | 506 | Golden White Beige | |
| 2014 | Fiat | Scudo | 691/A | Grigio Fer Met | |
| 2014 | Fiat | Scudo | 601 | Solid Black | |
| 2014 | Fiat | Scudo | 249 | Bianco Banchisa/Santarellina | |
| 2014 | Fiat | Scudo | 479/A | Blue Line | |
2014 Fiat Sedici Paint Codes
| Year | Mfg | Model | Paint Code | Color Name | Color Shade Example |
| --- | --- | --- | --- | --- | --- |
| Year | Mfg | Model | Paint Code | Color Name | Color Shade Example |
| 2014 | Fiat | Sedici | 198/B | Vede Rugiada Met | |
| 2014 | Fiat | Sedici | 211/A | Bianco Cristallino Met | |
| 2014 | Fiat | Sedici | 975 | Nero In Splendida Forma Met | |
| 2014 | Fiat | Sedici | 976 | Grigio Pungente Met | |
| 2014 | Fiat | Sedici | 977 | Grigio Ricercato Met | |
| 2014 | Fiat | Sedici | 982 | Rosso Brivido | |
| 2014 | Fiat | Sedici | 983 | Bianco Acchiappanuvole | |
2014 Fiat Strada Paint Codes
| Year | Mfg | Model | Paint Code | Color Name | Color Shade Example |
| --- | --- | --- | --- | --- | --- |
| Year | Mfg | Model | Paint Code | Color Name | Color Shade Example |
| 2014 | Fiat | Strada | 155 | Rosso by Lumberjack Met | |
| 2014 | Fiat | Strada | 178/A | Rosso Alpine | |
| 2014 | Fiat | Strada | 301/B | Cinza tellurium/Grigio terra met | |
| 2014 | Fiat | Strada | 460/B | Blu Trinidad Met | |
| 2014 | Fiat | Strada | 577/A | Verde Savage Met | |
| 2014 | Fiat | Strada | 619/A | Argento Bari Met | |
| 2014 | Fiat | Strada | 692/A | Grigio Scandium Met | |
| 2014 | Fiat | Strada | 726 | Blu buzios | |
| 2014 | Fiat | Strada | 761 | Beige Savannah Met | |
| 2014 | Fiat | Strada | 806/A | Negro Vulcano | |
| 2014 | Fiat | Strada | 807/A | Nero vesuvio met | |
| 2014 | Fiat | Strada | 249 | Bianco Banchisa/Santarellina | |