In 2017, Fiat maintained a diverse lineup of vehicles across global markets. While this list may not be exhaustive, and availability could vary depending on the specific region, some of the most popular Fiat models in 2017 included:
Fiat 500: A compact city car available in multiple versions, including the 500, 500C (convertible), and performance-oriented Abarth models.
Fiat 500L: A larger, more versatile version of the Fiat 500, designed for families and offering more space and practicality.
Fiat 500X: A compact crossover SUV based on the Fiat 500, offering more ground clearance and available with all-wheel drive.
Fiat Panda: A small, practical hatchback known for its versatile interior and economical engines, available in regular and 4x4 versions.
Fiat Tipo: A compact sedan, hatchback, and station wagon, the Tipo replaced the Bravo in Fiat's lineup and offered a spacious and affordable alternative in the compact segment.
Fiat 124 Spider: A two-seat sports car based on the Mazda MX-5 Miata platform, introduced in 2016 and offered with a Fiat turbocharged engine and distinctive Italian styling.
Fiat Argo: A compact hatchback introduced in 2017 for the South American market, replacing the Punto in this region.
Fiat Freemont: A mid-size crossover SUV with optional seven-seat configuration, based on the Dodge Journey. By 2017, the Freemont was nearing the end of its production life and would soon be discontinued.
Fiat Doblo: A panel van and leisure activity vehicle available in cargo and passenger versions, offering a spacious and versatile interior.
Fiat Fiorino: A small commercial vehicle, available as a cargo van or passenger-oriented "Qubo" model.
Fiat Ducato: A large commercial van available in various sizes and configurations, often used for camper conversions.
Please note that not all of these models were available in every market, and some had different names or specifications depending on the region.
2017 Fiat Paint Codes and Color Chart
2017 Fiat Paint Codes and Color Chart
2017 Fiat Paint Codes and Color Chart
2017 Fiat Paint Codes and Color Chart
2017 Fiat Paint Codes and Color Chart
2017 Fiat Paint Codes and Color Chart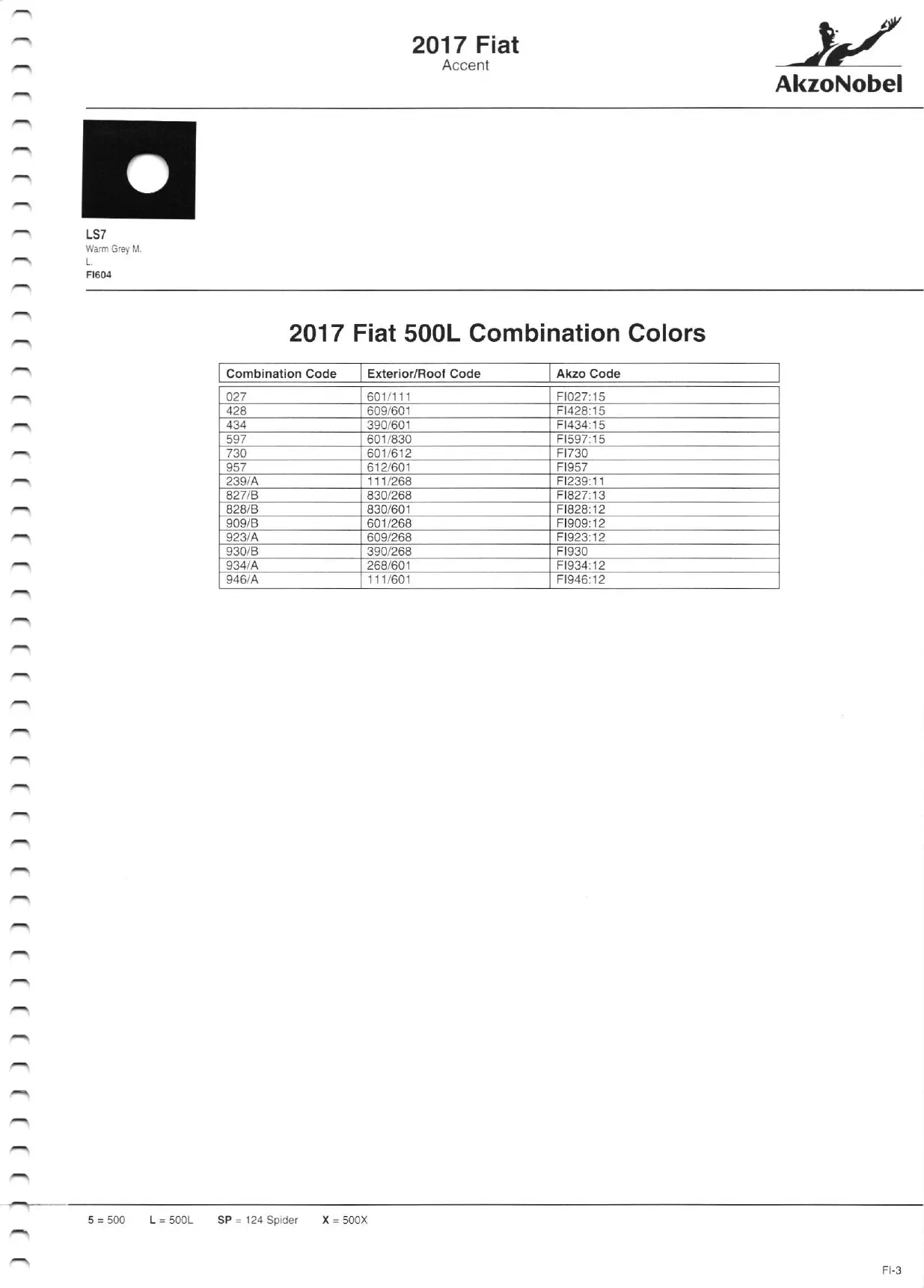 2017-2018 Fiat Paint Code Location
2017-2018 Fiat 2 tone Combinations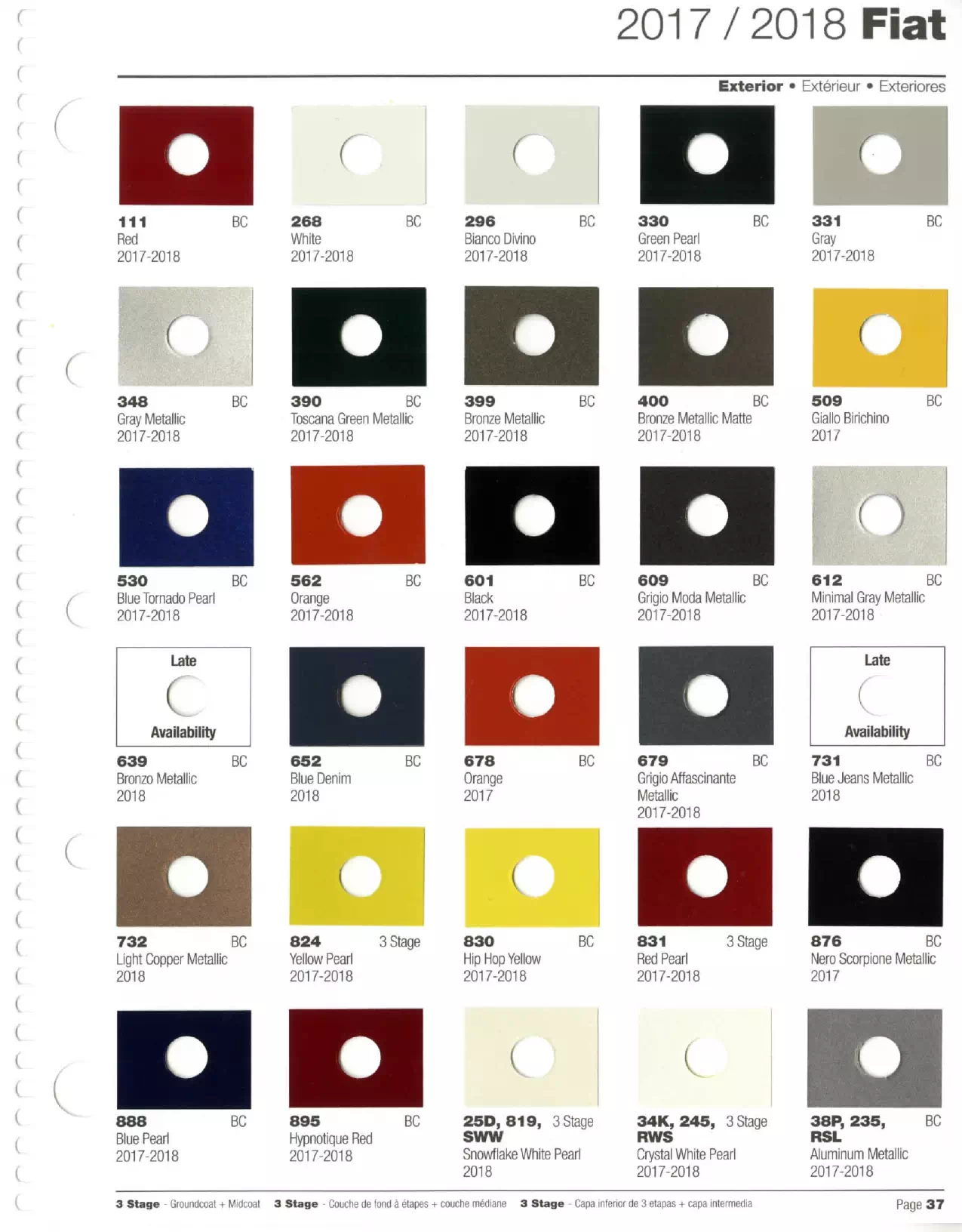 2017-2018 Fiat Paint Chart Page 1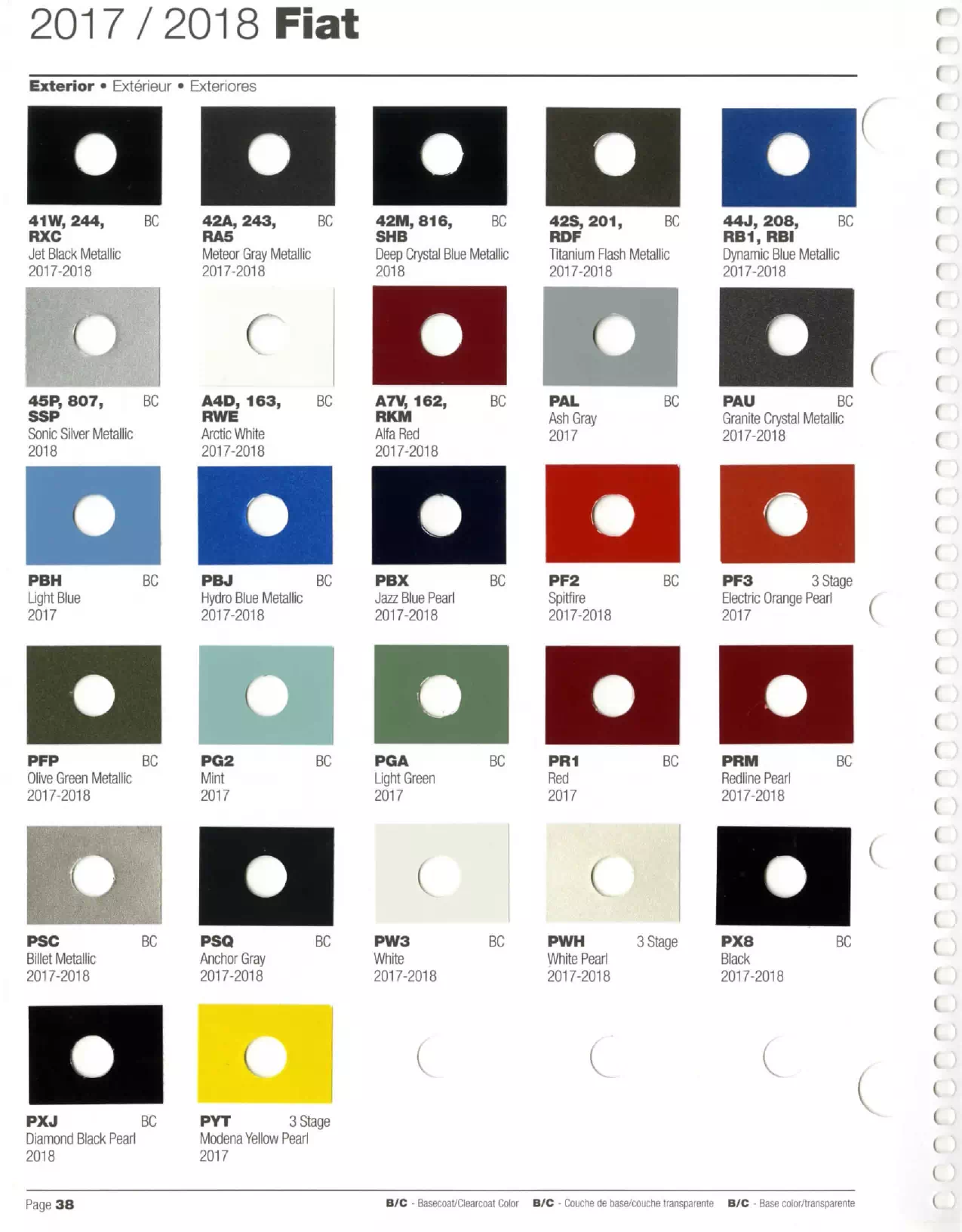 2017-2018 Fiat Paint Chat Page 2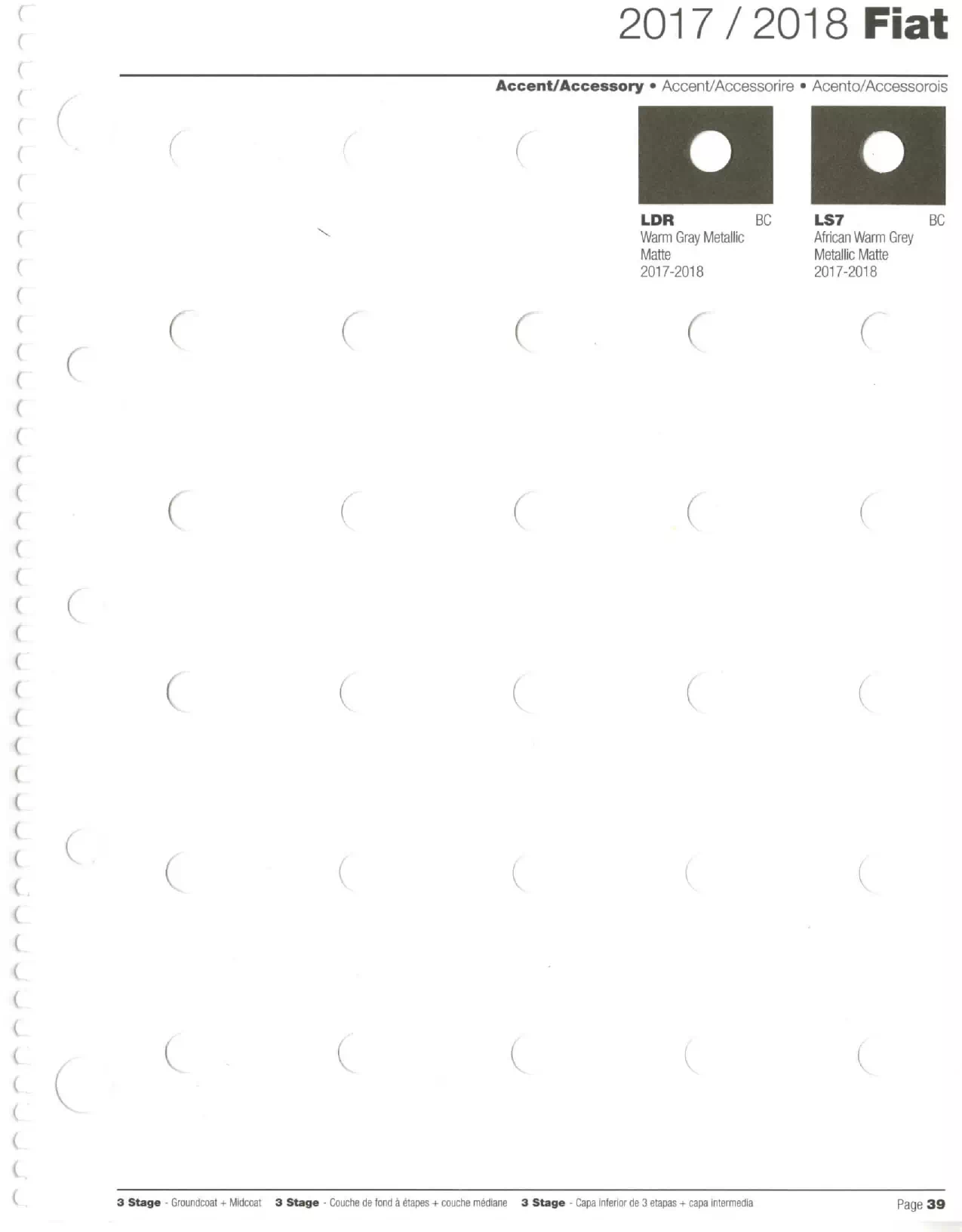 2017-2018 Fiat Paint Chart Page 3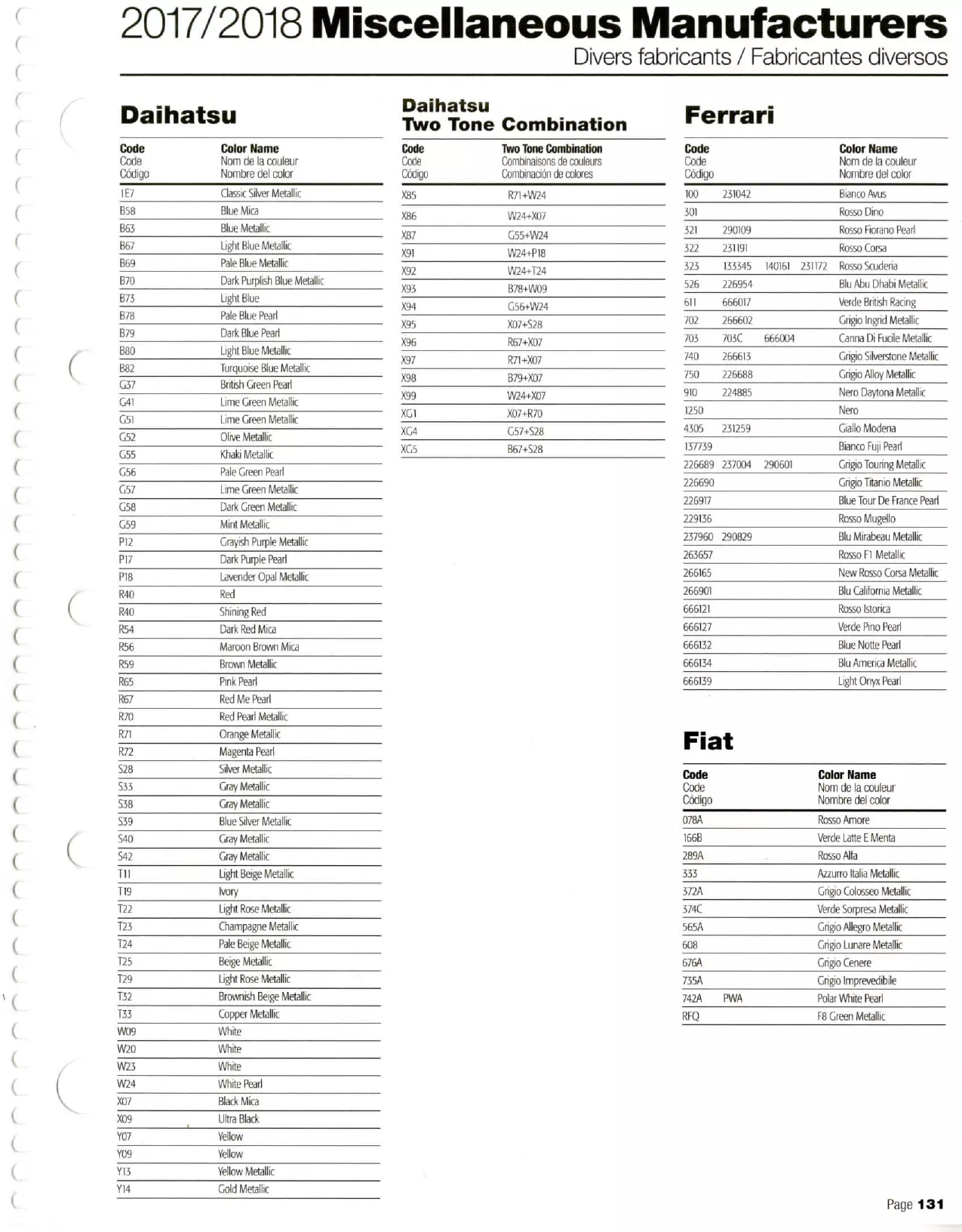 2017-2018 Fiat Paint Codes misc chart
2017 Paint Code Tables By Model
2017 Fiat 124 Spider Paint Codes
| Year | Mfg | Model | Paint Code | Color Name | Color Shade Example |
| --- | --- | --- | --- | --- | --- |
| Year | Mfg | Model | Paint Code | Color Name | Color Shade Example |
| 2017 | Fiat | 124 Spider | 162/C | Rosso Passione | |
| 2017 | Fiat | 124 Spider | 163/C | Bianco Gelato | |
| 2017 | Fiat | 124 Spider | 201/B | Bronzo Magnetico Met | |
| 2017 | Fiat | 124 Spider | 208/B | Azzurro Italia met | |
| 2017 | Fiat | 124 Spider | 235/B | Grigio Argento Met | |
| 2017 | Fiat | 124 Spider | 243/B | Grigio Moda Met | |
| 2017 | Fiat | 124 Spider | 244/B | Nero Vesuvio Met | |
| 2017 | Fiat | 124 Spider | 245/B | Bianco ghiaccio met | |
| 2017 | Fiat | 124 Spider | 730/A | 601 + 612/A | |
2017 Fiat 500 Paint Codes
Year
Mfg
Model
Paint Code
Color Name
Color Shade Example
Year
Mfg
Model
Paint Code
Color Name
Color Shade Example
2017
Fiat
500
111/A
Passione Red
2017
Fiat
500
149/C
Verde Alpi Opaco
2017
Fiat
500
166/B
Latte Menta
2017
Fiat
500
227/B
Nuovo Bianco Tristrato Met
2017
Fiat
500
268/A
Bossa Nova White
2017
Fiat
500
333/C
Azzurro Libertà Met
2017
Fiat
500
372/A
Grigio Colosseo Met
2017
Fiat
500
425/C
Blu Italia met
2017
Fiat
500
552/A
Rosso corallo
2017
Fiat
500
682/B
Blue Oltremare/Sera Met
2017
Fiat
500
687/B
Blu Dipintodiblu Met
2017
Fiat
500
695/A
Grigio Quarzo/Sfrenato Met (PAJ)
2017
Fiat
500
712/A
Giallo Sole
2017
Fiat
500
735/A
Grigio imprevedibile
2017
Fiat
500
866/B
Bordeaux Opera Met
2017
Fiat
500
876/B
Nero Provocatore Met
2017
Fiat
500
952
Azzurro Volare
2017
Fiat
500
239/B
111/A + 268/A
2017
Fiat
500
246
876/B + 111/A
2017
Fiat
500
269/B
268/A + 952
2017
Fiat
500
433
876/B + 712/A
2017
Fiat
500
823/A
876/B + 372/A
2017 Fiat 500C Paint Codes
| Year | Mfg | Model | Paint Code | Color Name | Color Shade Example |
| --- | --- | --- | --- | --- | --- |
| Year | Mfg | Model | Paint Code | Color Name | Color Shade Example |
| 2017 | Fiat | 500C | 111/A | Passione Red | |
| 2017 | Fiat | 500C | 166/B | Latte Menta | |
| 2017 | Fiat | 500C | 227/B | Nuovo Bianco Tristrato Met | |
| 2017 | Fiat | 500C | 268/A | Bossa Nova White | |
| 2017 | Fiat | 500C | 333/C | Azzurro Libertà Met | |
| 2017 | Fiat | 500C | 372/A | Grigio Colosseo Met | |
| 2017 | Fiat | 500C | 425/C | Blu Italia met | |
| 2017 | Fiat | 500C | 552/A | Rosso corallo | |
| 2017 | Fiat | 500C | 682/B | Blue Oltremare/Sera Met | |
| 2017 | Fiat | 500C | 687/B | Blu Dipintodiblu Met | |
| 2017 | Fiat | 500C | 695/A | Grigio Quarzo/Sfrenato Met (PAJ) | |
| 2017 | Fiat | 500C | 712/A | Giallo Sole | |
| 2017 | Fiat | 500C | 735/A | Grigio imprevedibile | |
| 2017 | Fiat | 500C | 876/B | Nero Provocatore Met | |
| 2017 | Fiat | 500C | 952 | Azzurro Volare | |
2017 Fiat 500L Paint Codes
| Year | Mfg | Model | Paint Code | Color Name | Color Shade Example |
| --- | --- | --- | --- | --- | --- |
| Year | Mfg | Model | Paint Code | Color Name | Color Shade Example |
| 2017 | Fiat | 500L | 108/B | Rosso Amore Met | |
| 2017 | Fiat | 500L | 231/B | Beige Cappuccino / Moca Latte | |
| 2017 | Fiat | 500L | 390/B | Verde Toscana Met (4Sa - Dpt) | |
| 2017 | Fiat | 500L | 530/A | Blu Venezia Met | |
| 2017 | Fiat | 500L | 601 | Solid Black | |
| 2017 | Fiat | 500L | 609/B | Grigio Moda Met | |
| 2017 | Fiat | 500L | 612/A | Grigio Palladio/Garbato Met | |
| 2017 | Fiat | 500L | 027/B | 601 + 609/B | |
| 2017 | Fiat | 500L | 538/A | 530/A + 268/A | |
| 2017 | Fiat | 500L | 934/A | 268/A + 601 | |
| 2017 | Fiat | 500L | 946/A | 111/A + 601 | |
| 2017 | Fiat | 500L | 957 | 612/A + 601 | |
| 2017 | Fiat | 500L | 674 | 268/A + 111/A | |
| 2017 | Fiat | 500L | 729/A | 530/A + 601 | |
| 2017 | Fiat | 500L | 812/B | Combination of 231 & 601 | |
| 2017 | Fiat | 500L | 826/B | 108/B + 601 | |
| 2017 | Fiat | 500L | 909/B | 601 + 268/A | |
| 2017 | Fiat | 500L | 912/B | 231/B + 268/A | |
| 2017 | Fiat | 500L | 923/A | 609/B + 268/A | |
| 2017 | Fiat | 500L | 926/A | 108/B + 268/A | |
| 2017 | Fiat | 500L | 930/B | 390/B + 268/A | |
| 2017 | Fiat | 500L | 239/B | 111/A + 268/A | |
| 2017 | Fiat | 500L | 111/A | Passione Red | |
| 2017 | Fiat | 500L | 268/A | Bossa Nova White | |
2017 Fiat 500L Living Paint Codes
| Year | Mfg | Model | Paint Code | Color Name | Color Shade Example |
| --- | --- | --- | --- | --- | --- |
| Year | Mfg | Model | Paint Code | Color Name | Color Shade Example |
| 2017 | Fiat | 500L Living | 108/B | Rosso Amore Met | |
| 2017 | Fiat | 500L Living | 231/B | Beige Cappuccino / Moca Latte | |
| 2017 | Fiat | 500L Living | 390/B | Verde Toscana Met (4Sa - Dpt) | |
| 2017 | Fiat | 500L Living | 601 | Solid Black | |
| 2017 | Fiat | 500L Living | 609/B | Grigio Moda Met | |
| 2017 | Fiat | 500L Living | 612/A | Grigio Palladio/Garbato Met | |
| 2017 | Fiat | 500L Living | 934/A | 268/A + 601 | |
| 2017 | Fiat | 500L Living | 946/A | 111/A + 601 | |
| 2017 | Fiat | 500L Living | 957 | 612/A + 601 | |
| 2017 | Fiat | 500L Living | 812/B | Combination of 231 & 601 | |
| 2017 | Fiat | 500L Living | 826/B | 108/B + 601 | |
| 2017 | Fiat | 500L Living | 909/B | 601 + 268/A | |
| 2017 | Fiat | 500L Living | 912/B | 231/B + 268/A | |
| 2017 | Fiat | 500L Living | 923/A | 609/B + 268/A | |
| 2017 | Fiat | 500L Living | 926/A | 108/B + 268/A | |
| 2017 | Fiat | 500L Living | 930/B | 390/B + 268/A | |
| 2017 | Fiat | 500L Living | 239/B | 111/A + 268/A | |
| 2017 | Fiat | 500L Living | 111/A | Passione Red | |
| 2017 | Fiat | 500L Living | 268/A | Bossa Nova White | |
2017 Fiat 500L Trekking Paint Codes
| Year | Mfg | Model | Paint Code | Color Name | Color Shade Example |
| --- | --- | --- | --- | --- | --- |
| Year | Mfg | Model | Paint Code | Color Name | Color Shade Example |
| 2017 | Fiat | 500L Trekking | 830/B | Giallo Sorrento | |
| 2017 | Fiat | 500L Trekking | 827/B | 830/B + 268/A | |
| 2017 | Fiat | 500L Trekking | 828/B | 830/B + 601 | |
| 2017 | Fiat | 500L Trekking | 530/A | Blu Venezia Met | |
| 2017 | Fiat | 500L Trekking | 538/A | 530/A + 268/A | |
| 2017 | Fiat | 500L Trekking | 729/A | 530/A + 601 | |
| 2017 | Fiat | 500L Trekking | 108/B | Rosso Amore Met | |
| 2017 | Fiat | 500L Trekking | 231/B | Beige Cappuccino / Moca Latte | |
| 2017 | Fiat | 500L Trekking | 390/B | Verde Toscana Met (4Sa - Dpt) | |
| 2017 | Fiat | 500L Trekking | 601 | Solid Black | |
| 2017 | Fiat | 500L Trekking | 609/B | Grigio Moda Met | |
| 2017 | Fiat | 500L Trekking | 934/A | 268/A + 601 | |
| 2017 | Fiat | 500L Trekking | 812/B | Combination of 231 & 601 | |
| 2017 | Fiat | 500L Trekking | 826/B | 108/B + 601 | |
| 2017 | Fiat | 500L Trekking | 909/B | 601 + 268/A | |
| 2017 | Fiat | 500L Trekking | 912/B | 231/B + 268/A | |
| 2017 | Fiat | 500L Trekking | 923/A | 609/B + 268/A | |
| 2017 | Fiat | 500L Trekking | 926/A | 108/B + 268/A | |
| 2017 | Fiat | 500L Trekking | 930/B | 390/B + 268/A | |
| 2017 | Fiat | 500L Trekking | 268/A | Bossa Nova White | |
2017 Fiat 500X Paint Codes
| Year | Mfg | Model | Paint Code | Color Name | Color Shade Example |
| --- | --- | --- | --- | --- | --- |
| Year | Mfg | Model | Paint Code | Color Name | Color Shade Example |
| 2017 | Fiat | 500X | 296/A | Bianco Divino/Bianco Gelato | |
| 2017 | Fiat | 500X | 330/B | Verde Toscana met | |
| 2017 | Fiat | 500X | 331/B | Grigio arte | |
| 2017 | Fiat | 500X | 348/B | Lyrical Grey Met | |
| 2017 | Fiat | 500X | 399/B | Bronzo Magnetico Met | |
| 2017 | Fiat | 500X | 400/C | Bronzo Magnetico Opaco Met | |
| 2017 | Fiat | 500X | 679/B | Underground Grey Met | |
| 2017 | Fiat | 500X | 824/C | Giallo Amalfi Met | |
| 2017 | Fiat | 500X | 831/C | Rosso Amore/Lipstick Red Met | |
| 2017 | Fiat | 500X | 888/B | Blu Venezia Met | |
| 2017 | Fiat | 500X | 895/B | Rosso Passione | |
| 2017 | Fiat | 500X | 601 | Solid Black | |
2017 Fiat Doblo Paint Codes
| Year | Mfg | Model | Paint Code | Color Name | Color Shade Example |
| --- | --- | --- | --- | --- | --- |
| Year | Mfg | Model | Paint Code | Color Name | Color Shade Example |
| 2017 | Fiat | Doblò | 168 | Rosso Pimpante | |
| 2017 | Fiat | Doblò | 249 | Bianco Banchisa/Santarellina | |
| 2017 | Fiat | Doblò | 261/A | Perla Vasari/Avorio Familiare Met | |
| 2017 | Fiat | Doblò | 293/A | Rosso Esuberante Met | |
| 2017 | Fiat | Doblò | 444/B | Bronzo Magnetico Met | |
| 2017 | Fiat | Doblò | 448/B | Azzurro Idealista Met | |
| 2017 | Fiat | Doblò | 479/A | Blue Line | |
| 2017 | Fiat | Doblò | 487/B | Blu Notturno Met | |
| 2017 | Fiat | Doblò | 590/A | Bordeaux Semiserio Met | |
| 2017 | Fiat | Doblò | 632 | Nero Tenore Met | |
| 2017 | Fiat | Doblò | 695/A | Grigio Quarzo/Sfrenato Met (PAJ) | |
| 2017 | Fiat | Doblò | 612/A | Grigio Palladio/Garbato Met | |
2017 Fiat Doblo Cargo Paint Codes
| Year | Mfg | Model | Paint Code | Color Name | Color Shade Example |
| --- | --- | --- | --- | --- | --- |
| Year | Mfg | Model | Paint Code | Color Name | Color Shade Example |
| 2017 | Fiat | Doblò cargo | 261/A | Perla Vasari/Avorio Familiare Met | |
| 2017 | Fiat | Doblò cargo | 590/A | Bordeaux Semiserio Met | |
| 2017 | Fiat | Doblò cargo | 168 | Rosso Pimpante | |
| 2017 | Fiat | Doblò cargo | 249 | Bianco Banchisa/Santarellina | |
| 2017 | Fiat | Doblò cargo | 293/A | Rosso Esuberante Met | |
| 2017 | Fiat | Doblò cargo | 448/B | Azzurro Idealista Met | |
| 2017 | Fiat | Doblò cargo | 479/A | Blue Line | |
| 2017 | Fiat | Doblò cargo | 487/B | Blu Notturno Met | |
| 2017 | Fiat | Doblò cargo | 632 | Nero Tenore Met | |
| 2017 | Fiat | Doblò cargo | 695/A | Grigio Quarzo/Sfrenato Met (PAJ) | |
| 2017 | Fiat | Doblò cargo | 612/A | Grigio Palladio/Garbato Met | |
2017 Fiat Ducato Paint Codes
| Year | Mfg | Model | Paint Code | Color Name | Color Shade Example |
| --- | --- | --- | --- | --- | --- |
| Year | Mfg | Model | Paint Code | Color Name | Color Shade Example |
| 2017 | Fiat | Ducato | 199/A | Red | |
| 2017 | Fiat | Ducato | 453/A | Lake Blue Met | |
| 2017 | Fiat | Ducato | 455/A | Blu Imperiale | |
| 2017 | Fiat | Ducato | 506 | Golden White Beige | |
| 2017 | Fiat | Ducato | 549/B | Ducato White | |
| 2017 | Fiat | Ducato | 611/A | Aluminum Grey Met | |
| 2017 | Fiat | Ducato | 691/A | Slate Grey Met | |
| 2017 | Fiat | Ducato | 479/A | Blue Line | |
| 2017 | Fiat | Ducato | 632 | Black Met | |
2017 Fiat Fiorino Paint Codes
| Year | Mfg | Model | Paint Code | Color Name | Color Shade Example |
| --- | --- | --- | --- | --- | --- |
| Year | Mfg | Model | Paint Code | Color Name | Color Shade Example |
| 2017 | Fiat | Fiorino | 355/A | Verde Yesili/Buon Umore Met | |
| 2017 | Fiat | Fiorino | 551/A | Arancio spassoso/esibizionista | |
| 2017 | Fiat | Fiorino | 444/B | Bronzo Magnetico Met | |
| 2017 | Fiat | Fiorino | 168 | Rosso Pimpante | |
| 2017 | Fiat | Fiorino | 249 | Bianco Banchisa/Santarellina | |
| 2017 | Fiat | Fiorino | 293/A | Rosso Esuberante Met | |
| 2017 | Fiat | Fiorino | 448/B | Azzurro Idealista Met | |
| 2017 | Fiat | Fiorino | 487/B | Blu Notturno Met | |
| 2017 | Fiat | Fiorino | 333/C | Azzurro Libertà Met | |
| 2017 | Fiat | Fiorino | 479/A | Blue Line | |
| 2017 | Fiat | Fiorino | 632 | Nero Tenore Met | |
| 2017 | Fiat | Fiorino | 612/A | Grigio Palladio/Garbato Met | |
2017 Fiat Freemont Paint Codes
| Year | Mfg | Model | Paint Code | Color Name | Color Shade Example |
| --- | --- | --- | --- | --- | --- |
| Year | Mfg | Model | Paint Code | Color Name | Color Shade Example |
| 2017 | Fiat | Freemont | 270/A | Blanco Alaska Pearl | |
| 2017 | Fiat | Freemont | PXR | Brilliant Black Crystal | |
| 2017 | Fiat | Freemont | PRM | Redline Met | |
| 2017 | Fiat | Freemont | PSC | Billet Silver Met | |
| 2017 | Fiat | Freemont | 372/A | Grigio Colosseo Met | |
| 2017 | Fiat | Freemont | 268/A | Bossa Nova White | |
2017 Fiat Fullback Paint Codes
| Year | Mfg | Model | Paint Code | Color Name | Color Shade Example |
| --- | --- | --- | --- | --- | --- |
| Year | Mfg | Model | Paint Code | Color Name | Color Shade Example |
| 2017 | Fiat | Fullback | 462 | Verde Met | |
| 2017 | Fiat | Fullback | 463 | Blue Met | |
| 2017 | Fiat | Fullback | 473 | Rosso | |
| 2017 | Fiat | Fullback | 478 | Marrone Met | |
| 2017 | Fiat | Fullback | 480 | Grigio Titanio Met | |
| 2017 | Fiat | Fullback | 555 | Nero Met | |
| 2017 | Fiat | Fullback | 557 | Bianco Perla Met | |
| 2017 | Fiat | Fullback | 563 | Bianco | |
| 2017 | Fiat | Fullback | 446 | Grigio Colosseo Met | |
2017 Fiat Linea Paint Codes
| Year | Mfg | Model | Paint Code | Color Name | Color Shade Example |
| --- | --- | --- | --- | --- | --- |
| Year | Mfg | Model | Paint Code | Color Name | Color Shade Example |
| 2017 | Fiat | Linea | | Tuscan Wine Pearl | |
| 2017 | Fiat | Linea | KWH, 020 | New Pearl White | |
| 2017 | Fiat | Linea | 318 | Magnesio Grey Met | |
| 2017 | Fiat | Linea | 787 | Hip Hop Black Met | |
| 2017 | Fiat | Linea | | Sunbeam Gold | |
| 2017 | Fiat | Linea | 612 | Minimal Grey | |
| 2017 | Fiat | Linea | 394 | Bronzo Tan Pearl | |
2017 Fiat Ottimo (Please) Paint Codes
| Year | Mfg | Model | Paint Code | Color Name | Color Shade Example |
| --- | --- | --- | --- | --- | --- |
| Year | Mfg | Model | Paint Code | Color Name | Color Shade Example |
| 2017 | Fiat | Ottimo (Please) | 268 | Angel White | |
| 2017 | Fiat | Ottimo (Please) | 293 | Coral Red | |
| 2017 | Fiat | Ottimo (Please) | 172 | Sapphire Blue | |
| 2017 | Fiat | Ottimo (Please) | 620 | Satin Silver | |
| 2017 | Fiat | Ottimo (Please) | 876 | Space Black Pearl | |
| 2017 | Fiat | Ottimo (Please) | 325 | Cherry Red | |
2017 Fiat Panda Paint Codes
| Year | Mfg | Model | Paint Code | Color Name | Color Shade Example |
| --- | --- | --- | --- | --- | --- |
| Year | Mfg | Model | Paint Code | Color Name | Color Shade Example |
| 2017 | Fiat | Panda | 147/B | Rosso Gioioso Met | |
| 2017 | Fiat | Panda | 289/A | Rosso Superbo/Rosso Passione | |
| 2017 | Fiat | Panda | 565/A | Active Grey Met | |
| 2017 | Fiat | Panda | 567/A | Mediterranean Blue Met | |
| 2017 | Fiat | Panda | 715/A | Beige Accogliente/Caffelatte | |
| 2017 | Fiat | Panda | 296/A | Bianco Divino/Bianco Gelato | |
| 2017 | Fiat | Panda | 601 | Darkwave Black | |
| 2017 | Fiat | Panda 4x4 | 374/C | Tuscany Green Met | |
| 2017 | Fiat | Panda 4x4 | 516/A | Siliclian Orange | |
| 2017 | Fiat | Panda 4x4 | 147/B | Rosso Gioioso Met | |
| 2017 | Fiat | Panda 4x4 | 289/A | Rosso Superbo/Rosso Passione | |
| 2017 | Fiat | Panda 4x4 | 565/A | Active Grey Met | |
| 2017 | Fiat | Panda 4x4 | 567/A | Mediterranean Blue Met | |
| 2017 | Fiat | Panda 4x4 | 715/A | Beige Accogliente/Caffelatte | |
| 2017 | Fiat | Panda 4x4 | 296/A | Bianco Divino/Bianco Gelato | |
| 2017 | Fiat | Panda 4x4 | 601 | Darkwave Black | |
| 2017 | Fiat | Panda Cross | 509/A | Tropicalia Yellow | |
| 2017 | Fiat | Panda Cross | 374/C | Tuscany Green Met | |
| 2017 | Fiat | Panda Cross | 289/A | Rosso Superbo/Rosso Passione | |
| 2017 | Fiat | Panda Cross | 715/A | Beige Accogliente/Caffelatte | |
| 2017 | Fiat | Panda Cross | 296/A | Bianco Divino/Bianco Gelato | |
| 2017 | Fiat | Panda Cross | 601 | Darkwave Black | |
2017 Fiat Punto Paint Codes
| Year | Mfg | Model | Paint Code | Color Name | Color Shade Example |
| --- | --- | --- | --- | --- | --- |
| Year | Mfg | Model | Paint Code | Color Name | Color Shade Example |
| 2017 | Fiat | Punto | 176/A | Exotica Red | |
| 2017 | Fiat | Punto | 475/A | Rock n Roll Blue | |
| 2017 | Fiat | Punto | 348/B | Lyrical Grey Met | |
| 2017 | Fiat | Punto | 679/B | Underground Grey Met | |
| 2017 | Fiat | Punto | 876/B | Crossover Black Met | |
| 2017 | Fiat | Punto | 296/A | Ambient White | |
2017 Fiat Qubo Paint Codes
| Year | Mfg | Model | Paint Code | Color Name | Color Shade Example |
| --- | --- | --- | --- | --- | --- |
| Year | Mfg | Model | Paint Code | Color Name | Color Shade Example |
| 2017 | Fiat | Qubo | 112/B | Arancio Intraprendente Met | |
| 2017 | Fiat | Qubo | 355/A | Verde Yesili/Buon Umore Met | |
| 2017 | Fiat | Qubo | 551/A | Arancio spassoso/esibizionista | |
| 2017 | Fiat | Qubo | 168 | Rosso Pimpante | |
| 2017 | Fiat | Qubo | 249 | Bianco Banchisa/Santarellina | |
| 2017 | Fiat | Qubo | 293/A | Rosso Esuberante Met | |
| 2017 | Fiat | Qubo | 448/B | Azzurro Idealista Met | |
| 2017 | Fiat | Qubo | 479/A | Blue Line | |
| 2017 | Fiat | Qubo | 487/B | Blu Notturno Met | |
| 2017 | Fiat | Qubo | 632 | Nero Tenore Met | |
| 2017 | Fiat | Qubo | 333/C | Azzurro Libertà Met | |
| 2017 | Fiat | Qubo | 612/A | Grigio Palladio/Garbato Met | |
2017 Fiat Scudo Paint Codes
| Year | Mfg | Model | Paint Code | Color Name | Color Shade Example |
| --- | --- | --- | --- | --- | --- |
| Year | Mfg | Model | Paint Code | Color Name | Color Shade Example |
| 2017 | Fiat | Scudo | 194/A | Rosso Nizza | |
| 2017 | Fiat | Scudo | 405/B | Blu kyanos met | |
| 2017 | Fiat | Scudo | 667/A | Grigio Aster Met | |
| 2017 | Fiat | Scudo | 685 | Grigio Juvarra/Quarzo/Affidabile Met | |
| 2017 | Fiat | Scudo | 455/A | Blu Imperiale | |
| 2017 | Fiat | Scudo | 506 | Golden White Beige | |
| 2017 | Fiat | Scudo | 691/A | Grigio Fer Met | |
| 2017 | Fiat | Scudo | 249 | Bianco Banchisa/Santarellina | |
| 2017 | Fiat | Scudo | 479/A | Blue Line | |
| 2017 | Fiat | Scudo | 601 | Solid Black | |
2017 Fiat Talento Paint Codes
| Year | Mfg | Model | Paint Code | Color Name | Color Shade Example |
| --- | --- | --- | --- | --- | --- |
| Year | Mfg | Model | Paint Code | Color Name | Color Shade Example |
| 2017 | Fiat | Talento | 4H5 | Nero Met | |
| 2017 | Fiat | Talento | 4SA | Verde Met | |
| 2017 | Fiat | Talento | 5CA | Bianco | |
| 2017 | Fiat | Talento | 5JQ | Blu Met | |
| 2017 | Fiat | Talento | 6FW | Grigio chiaro met | |
| 2017 | Fiat | Talento | 6FX | Beige met | |
| 2017 | Fiat | Talento | 74G | Grigio Scuro Met | |
| 2017 | Fiat | Talento | 7AZ, 404 | Grigio | |
| 2017 | Fiat | Talento | 802 | Rosso | |
2017 Fiat Tipo Paint Codes
| Year | Mfg | Model | Paint Code | Color Name | Color Shade Example |
| --- | --- | --- | --- | --- | --- |
| Year | Mfg | Model | Paint Code | Color Name | Color Shade Example |
| 2017 | Fiat | Tipo | 249 | Ambient White | |
| 2017 | Fiat | Tipo | 444 | Bronzo Magnetico Met | |
| 2017 | Fiat | Tipo | 612 | Grigio Palladio/Garbato Met | |
| 2017 | Fiat | Tipo | 695 | Electoclash Grey Met | |
| 2017 | Fiat | Tipo | 717/A | Blu Mediterraneo Met | |
| 2017 | Fiat | Tipo | 716 | Tango Red Met | |
| 2017 | Fiat | Tipo | 718 | Volcano Black Met | |
| 2017 | Fiat | Tipo | 722 | Perla Sand | |
| 2017 | Fiat | Tipo | 448 | Sky Blue Met | |
| 2017 | Fiat | Tipo | 716/B | Rosso amore met | |
| 2017 | Fiat | Tipo | 717/A | Blu Mediterraneo Met | |
| 2017 | Fiat | Tipo | 718/A | Nero cinema met | |
| 2017 | Fiat | Tipo | 722/A | Perla Sabbia Met | |
| 2017 | Fiat | Tipo | 444/B | Bronzo Magnetico Met | |
| 2017 | Fiat | Tipo | 695/A | Grigio Quarzo/Sfrenato Met (PAJ) | |
| 2017 | Fiat | Tipo | 612/A | Grigio Palladio/Garbato Met | |
2017 Fiat Tipo Van Paint Codes
| Year | Mfg | Model | Paint Code | Color Name | Color Shade Example |
| --- | --- | --- | --- | --- | --- |
| Year | Mfg | Model | Paint Code | Color Name | Color Shade Example |
| 2017 | Fiat | Tipo Van | 249 | Ambient White | |
| 2017 | Fiat | Tipo Van | 412 | Blu Lancia Met | |
| 2017 | Fiat | Tipo Van | 695 | Electoclash Grey Met | |
| 2017 | Fiat | Tipo Van | 716 | Tango Red Met | |
| 2017 | Fiat | Tipo Van | 718 | Volcano Black Met | |
| 2017 | Fiat | Tipo Van | 444 | Bronzo Magnetico Met | |
| 2017 | Fiat | Tipo Van | 717/A | Blu Mediterraneo Met | |
| 2017 | Fiat | Tipo Van | 722 | Perla Sand | |
2017 Fiat Urban Cross Paint Codes
| Year | Mfg | Model | Paint Code | Color Name | Color Shade Example |
| --- | --- | --- | --- | --- | --- |
| Year | Mfg | Model | Paint Code | Color Name | Color Shade Example |
| 2017 | Fiat | Urban Cross | 394 | Bronzo Tan Pearl | |
| 2017 | Fiat | Urban Cross | 787 | Hip Hop Black Met | |
| 2017 | Fiat | Urban Cross | 176 | Exotica Red | |
| 2017 | Fiat | Urban Cross | 268 | Bossa Nova White | |
| 2017 | Fiat | Urban Cross | 612 | Minimal Grey | |
| 2017 | Fiat | Urban Cross | 318 | Magnesio Grey Met | |
2017 Fiat Viaggio Paint Codes
| Year | Mfg | Model | Paint Code | Color Name | Color Shade Example |
| --- | --- | --- | --- | --- | --- |
| Year | Mfg | Model | Paint Code | Color Name | Color Shade Example |
| 2017 | Fiat | Viaggio | 268 | Angel White | |
| 2017 | Fiat | Viaggio | 293 | Coral Red | |
| 2017 | Fiat | Viaggio | 295 | Champange Gold | |
| 2017 | Fiat | Viaggio | 620 | Satin Silver | |
| 2017 | Fiat | Viaggio | 172 | Sapphire Blue | |
| 2017 | Fiat | Viaggio | 876 | Space Black Pearl | |