Renault Color Code Library
Renault is a prominent French automobile manufacturer, known for its role in the motor industry since its founding in 1899. Established by Louis Renault and his brothers Marcel and Fernand, the company initially gained fame for its innovative engineering and quality manufacturing. Renault's early models were notable for their durability and performance, which quickly propelled the brand to prominence in the automobile industry.
Over the years, Renault has been at the forefront of automotive innovation. It played a key role in popularizing the hatchback car design with models like the Renault 4 and Renault 5 in the 1960s and 1970s. The company has also been successful in motorsports, especially in Formula One racing, where it has won multiple championships, both as an engine supplier and as a constructor.
In recent decades, Renault has focused on expanding its global presence and has formed alliances with other car manufacturers. The most notable of these is the Renault-Nissan-Mitsubishi Alliance, which has become one of the world's largest automotive groups. This alliance has allowed Renault to leverage shared technology and resources, improving efficiency and innovation.
Renault is also recognized for its commitment to environmentally friendly vehicles. It has invested heavily in electric vehicle technology, producing popular models like the Renault Zoe, which is one of the best-selling electric cars in Europe.
As a brand, Renault is known for producing a wide range of vehicles, from budget-friendly city cars to luxurious sedans, demonstrating its ability to cater to a diverse range of customer needs and preferences. With its rich history, commitment to innovation, and focus on sustainability, Renault continues to be a significant player in the global automotive industry.
2017 Renault Paint Codes & Color Chart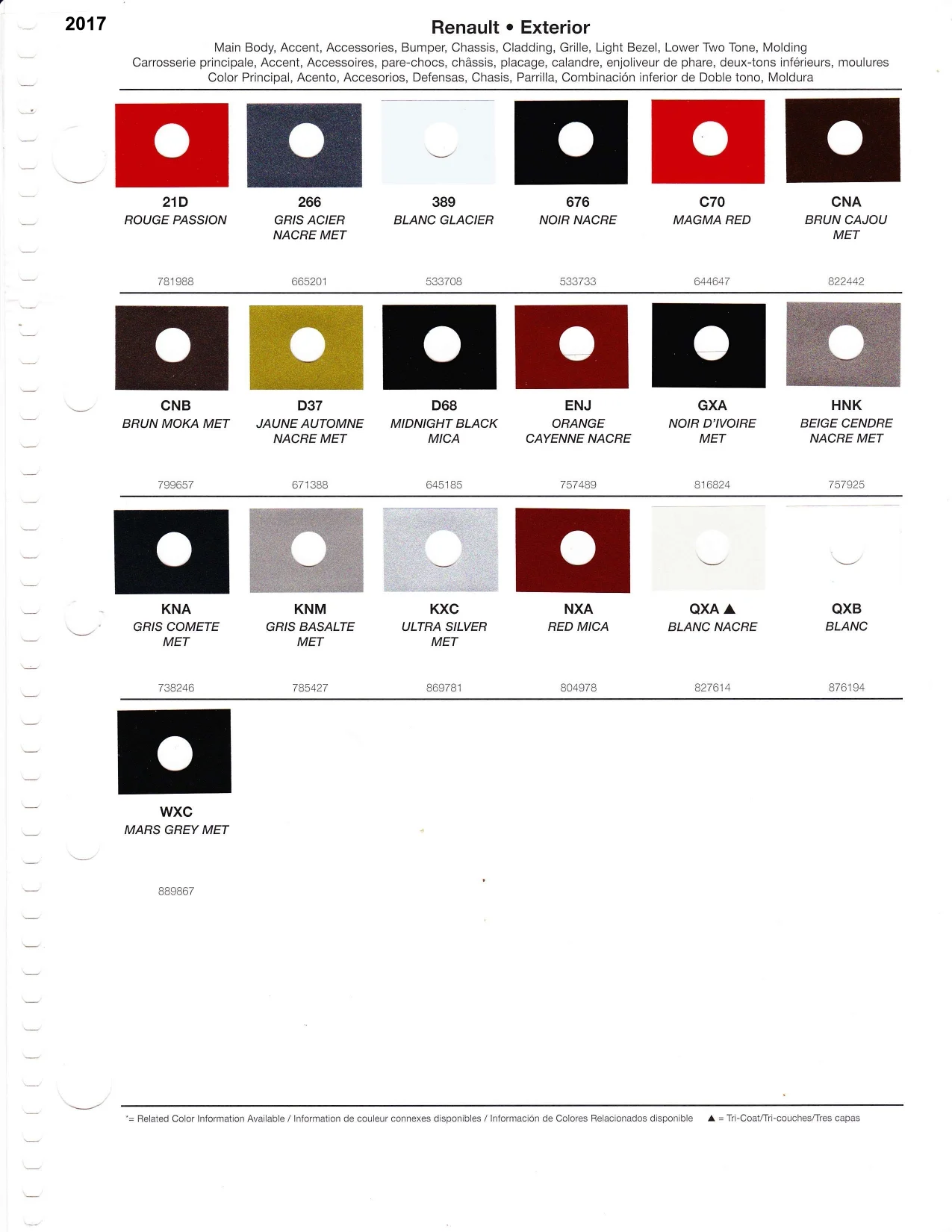 2016 Renault Paint Code Location
2016 Renault Paint Codes & Color Chart
2012 Renault Paint Codes & Color Chart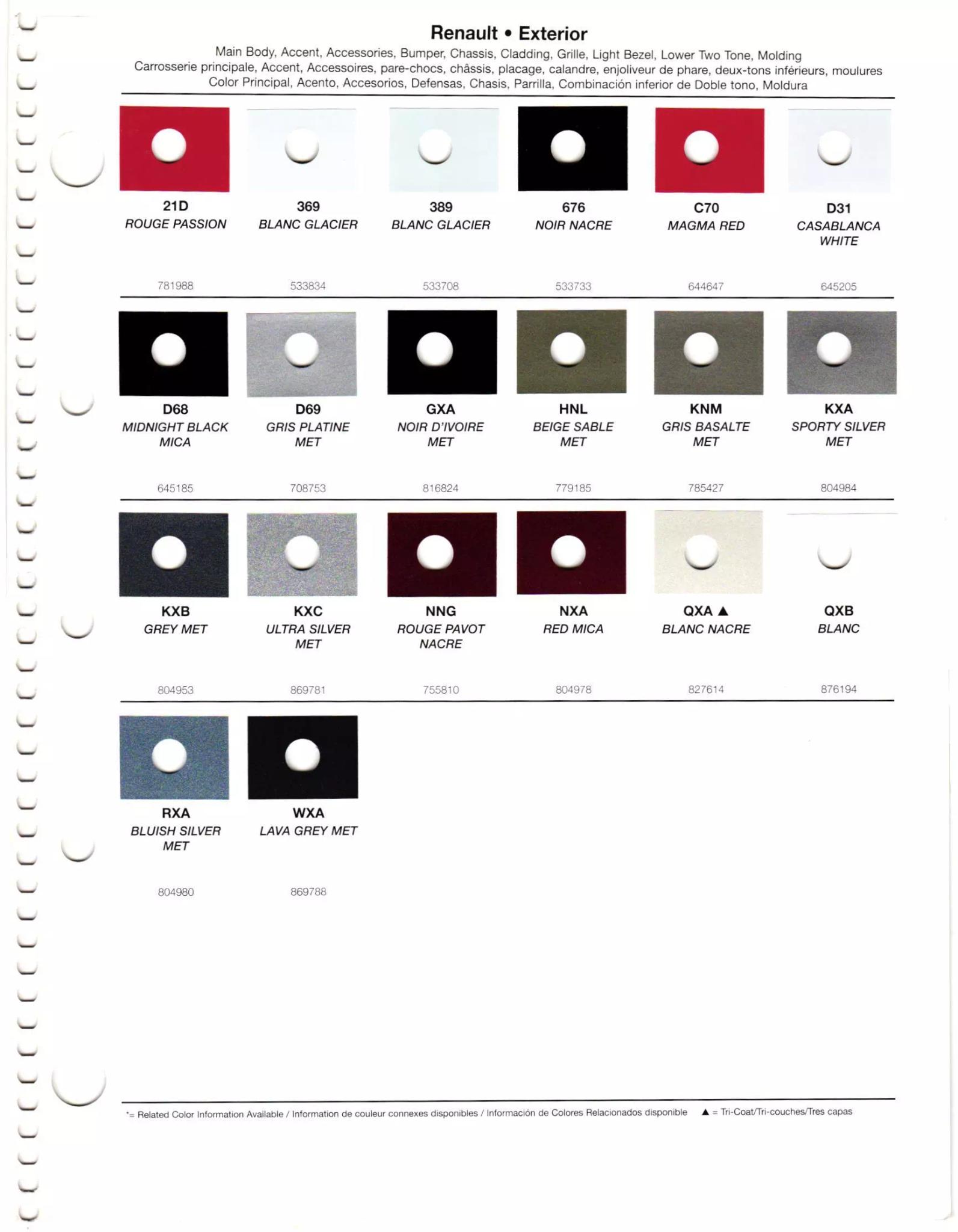 2011 Renault Paint Codes & Color Chart

2000 Renault Paint Codes & Color Chart
1995 Renault Paint Codes & Color Chart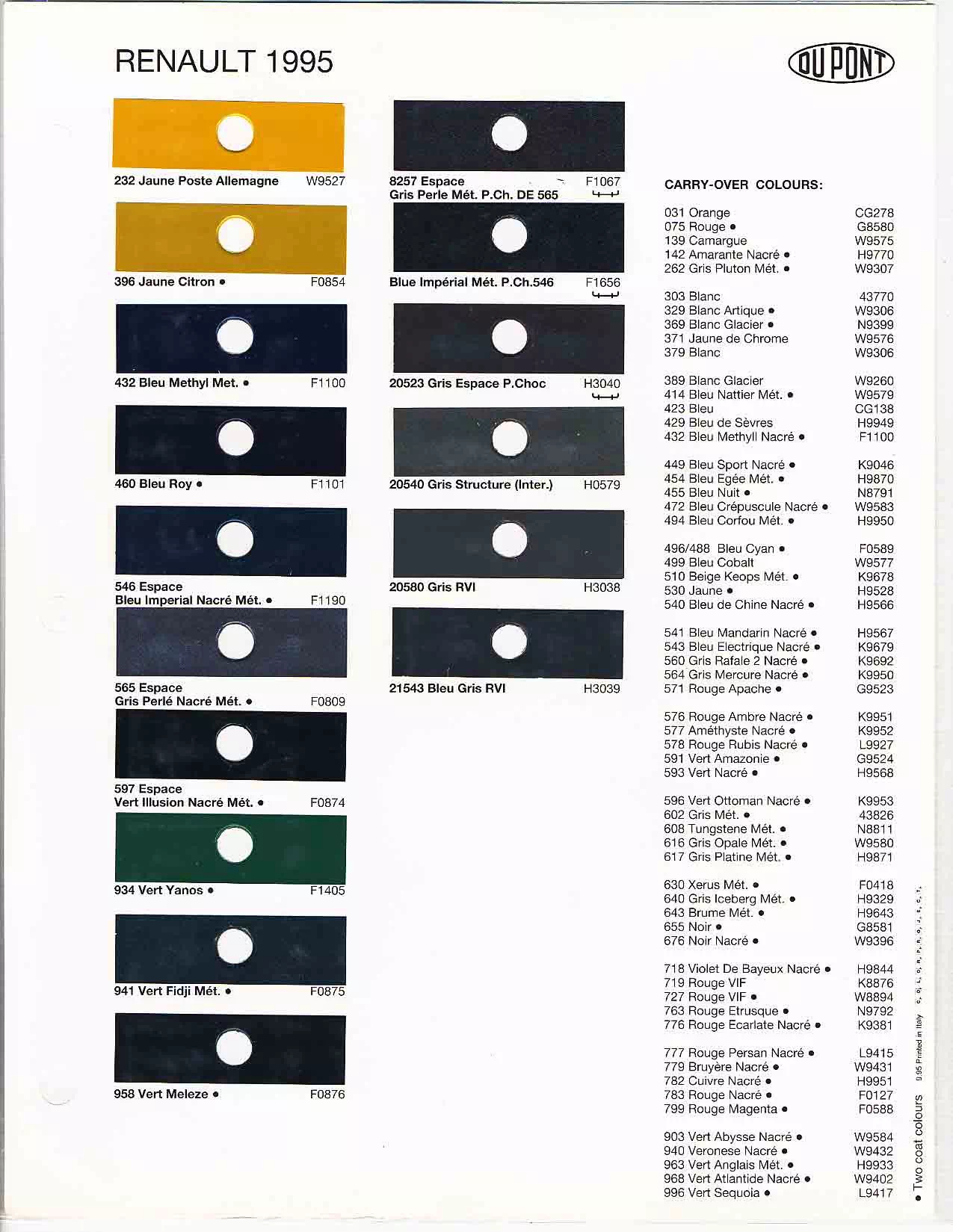 1994 Renault Paint Codes & Color Chart
1992 Renault Paint Codes & Color Chart
1991 Renault Paint Codes & Color Chart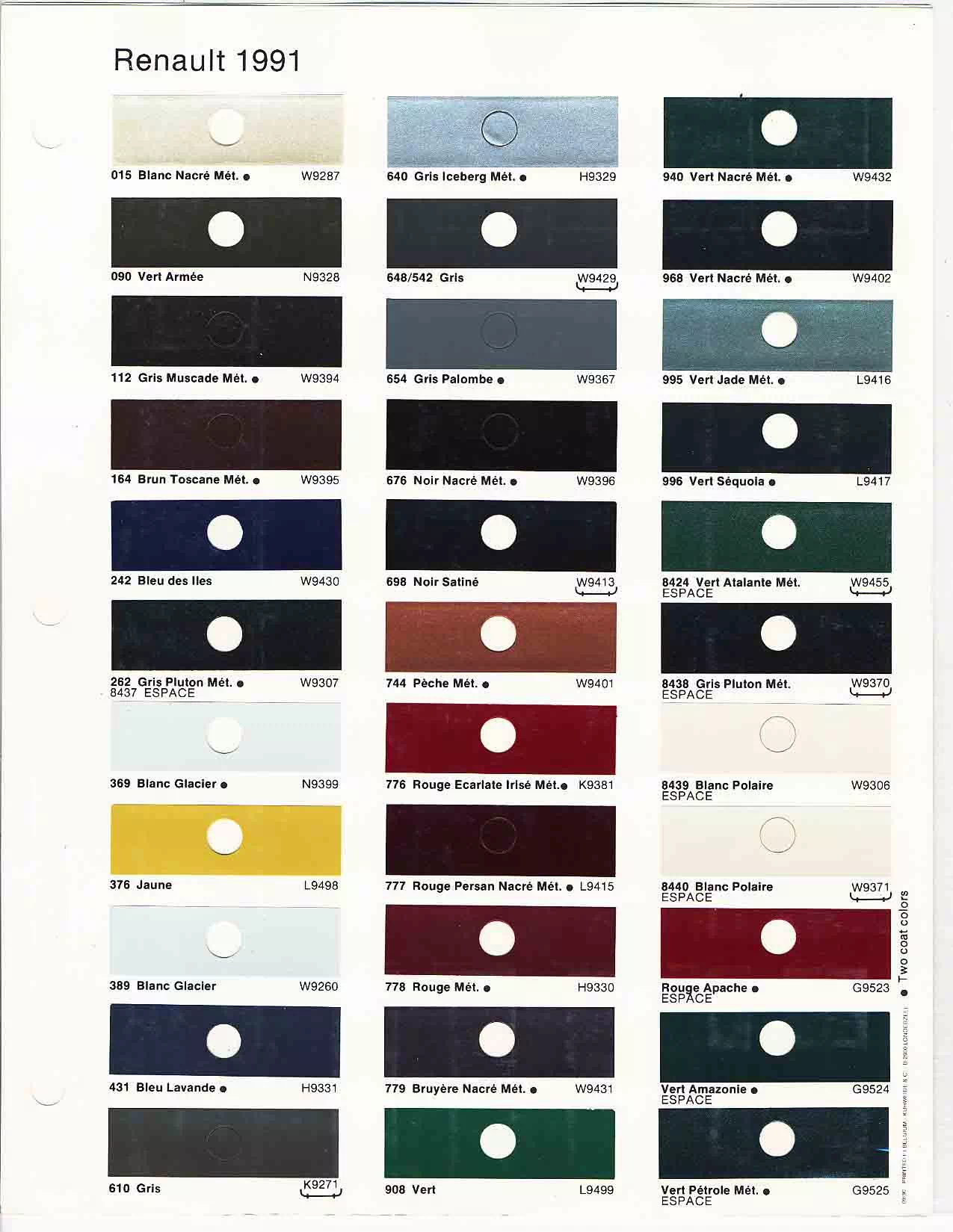 1990 Renault Paint Codes & Color Chart
1989 Renault Paint Codes & Color Chart
1988 Renault Paint Codes & Color Chart
1987 Renault Paint Codes & Color Chart
1986 Renault Paint Codes & Color Chart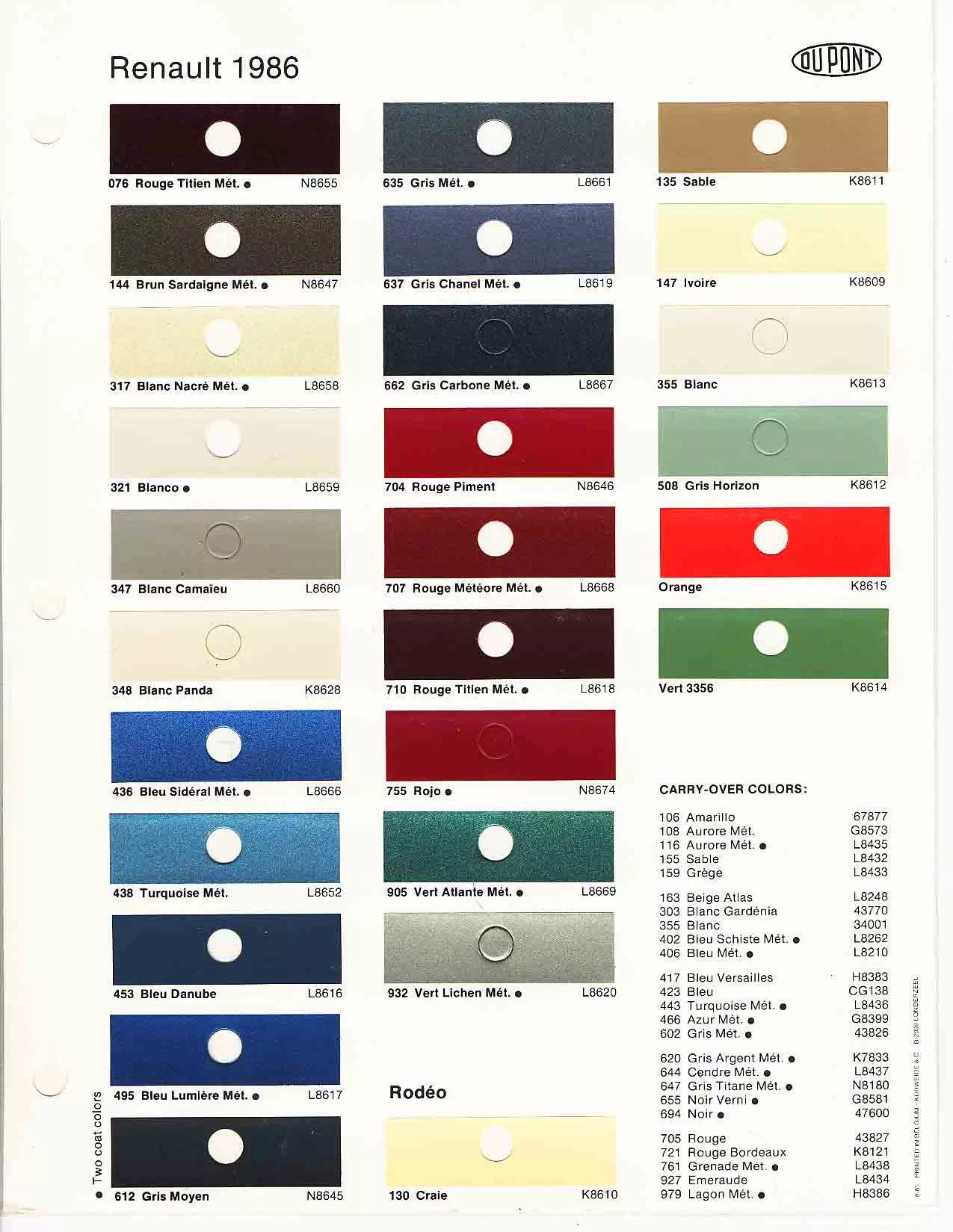 1986 Renault Paint Codes & Color Chart
1985 Renault Paint Codes & Color Chart
1985 Renault Paint Codes & Color Chart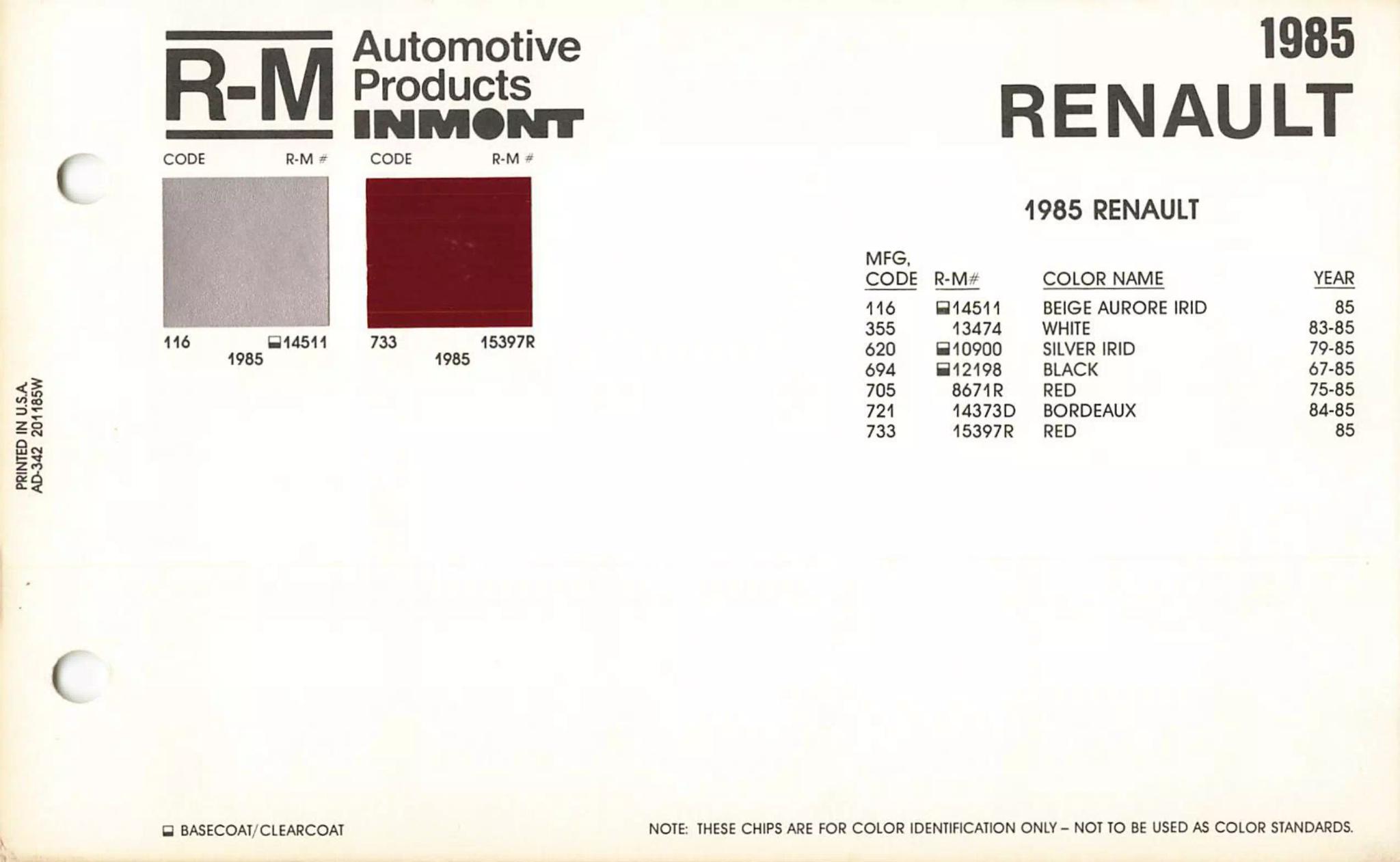 1984 Renault Paint Codes & Color Chart
1984 Renault Paint Codes & Color Chart

1983 Renault Paint Codes & Color Chart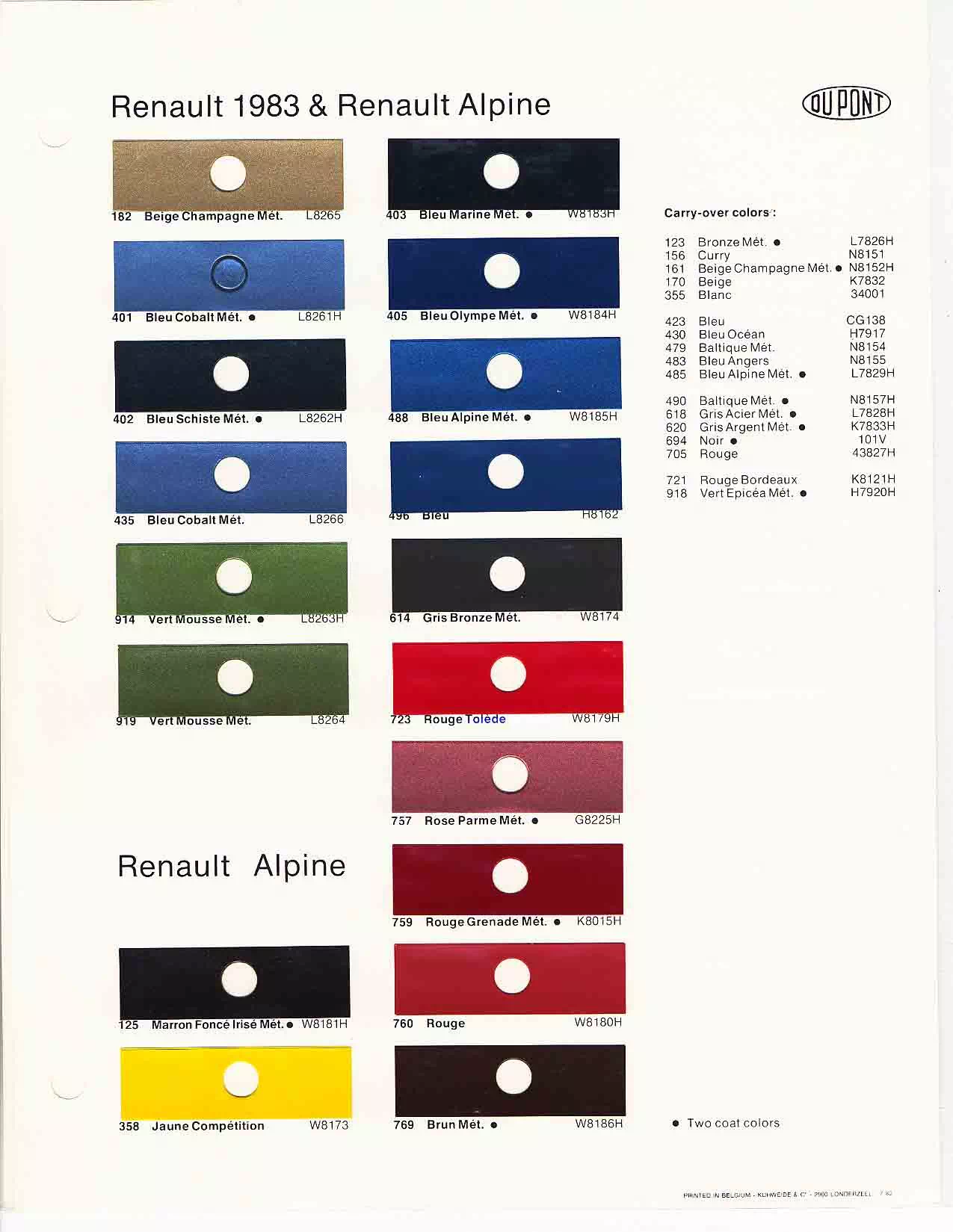 1983 Renault Paint Codes & Color Chart

1982 Renault Paint Codes & Color Chart

1977 to 1981 Renault Paint Codes & Color Chart Listing Page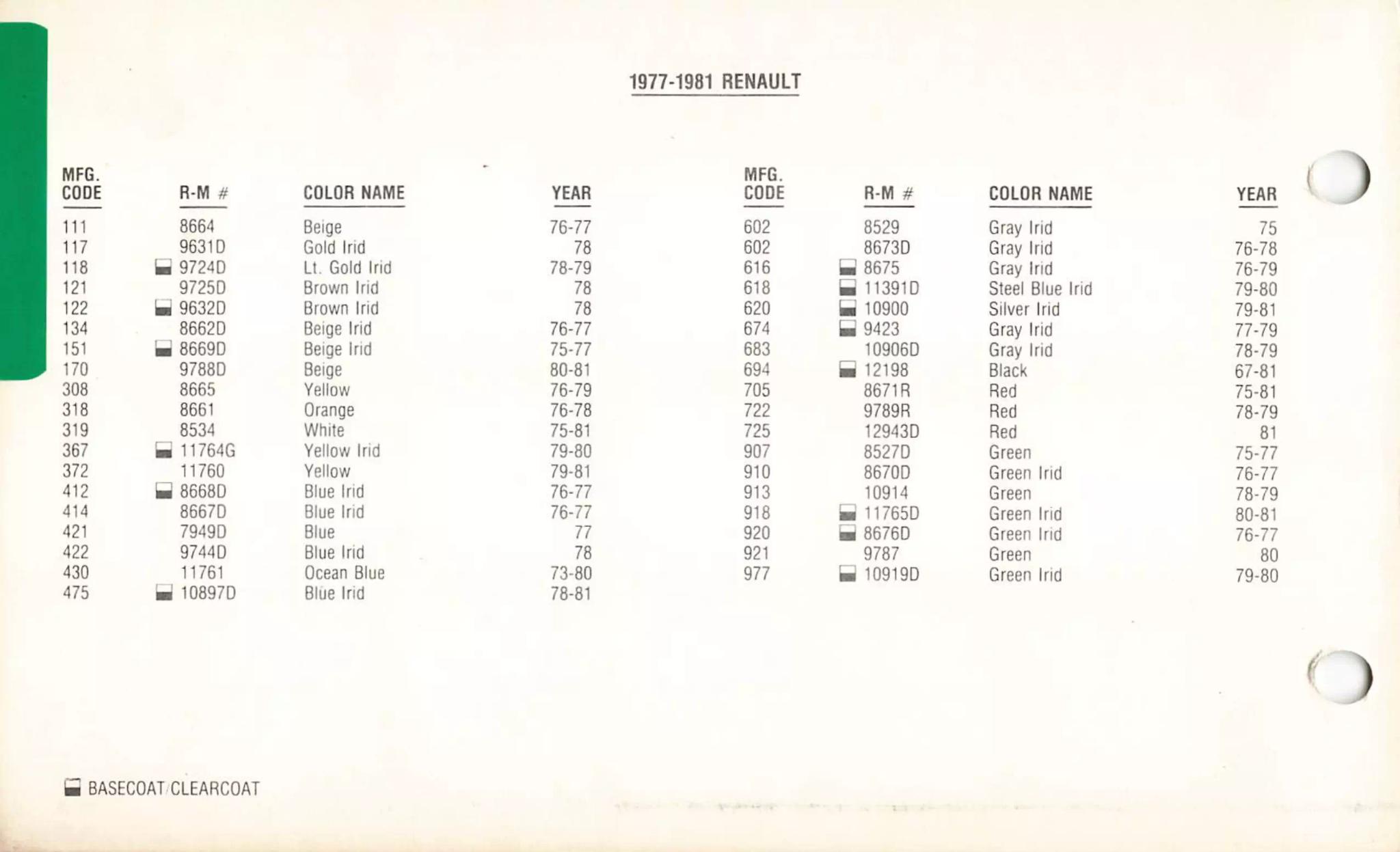 1977 to 1981 Renault Paint Codes & Color Chart Page 1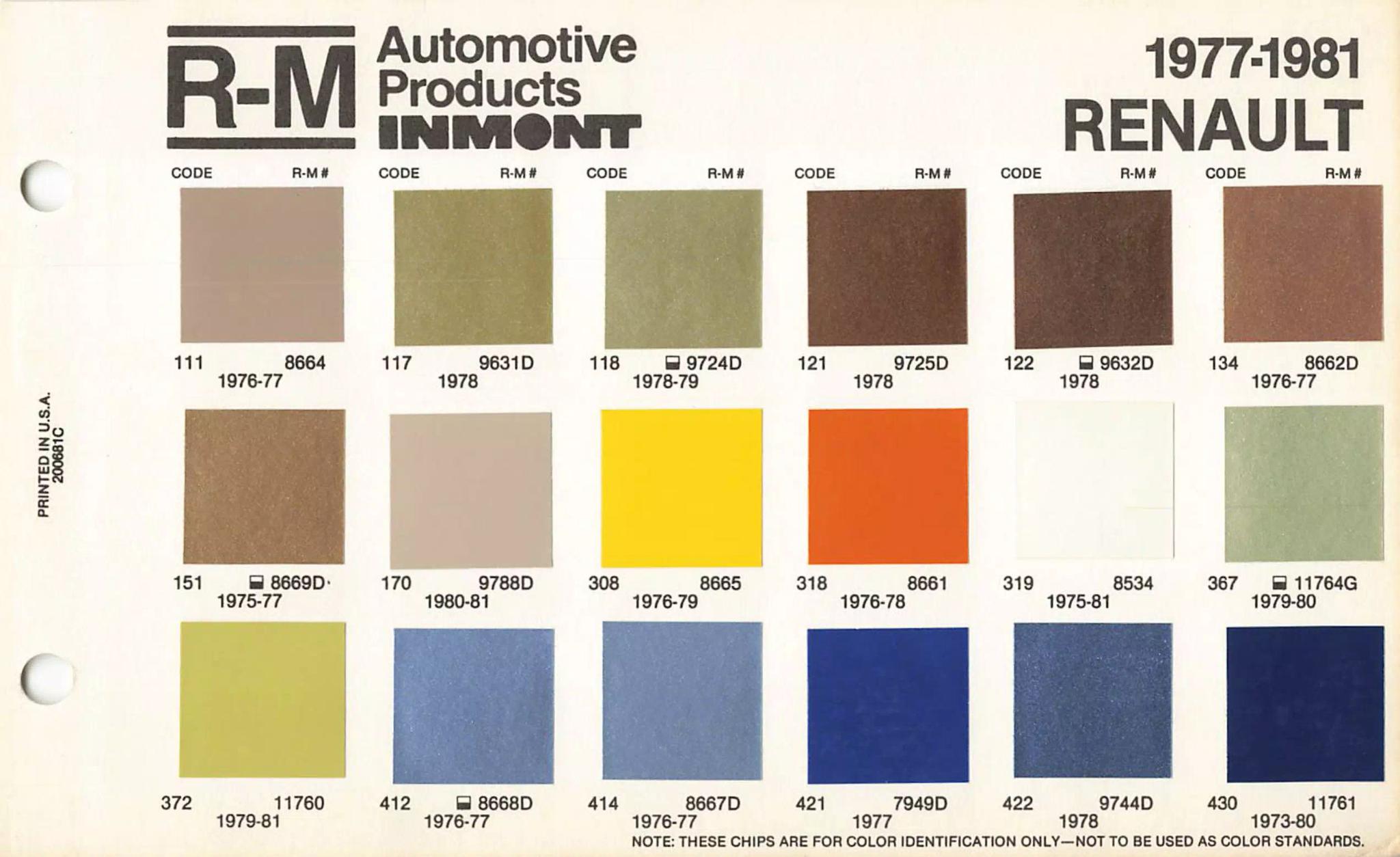 1977 to 1981 Renault Paint Codes & Color Chart Page 2

1975 Renault Paint Codes & Color Chart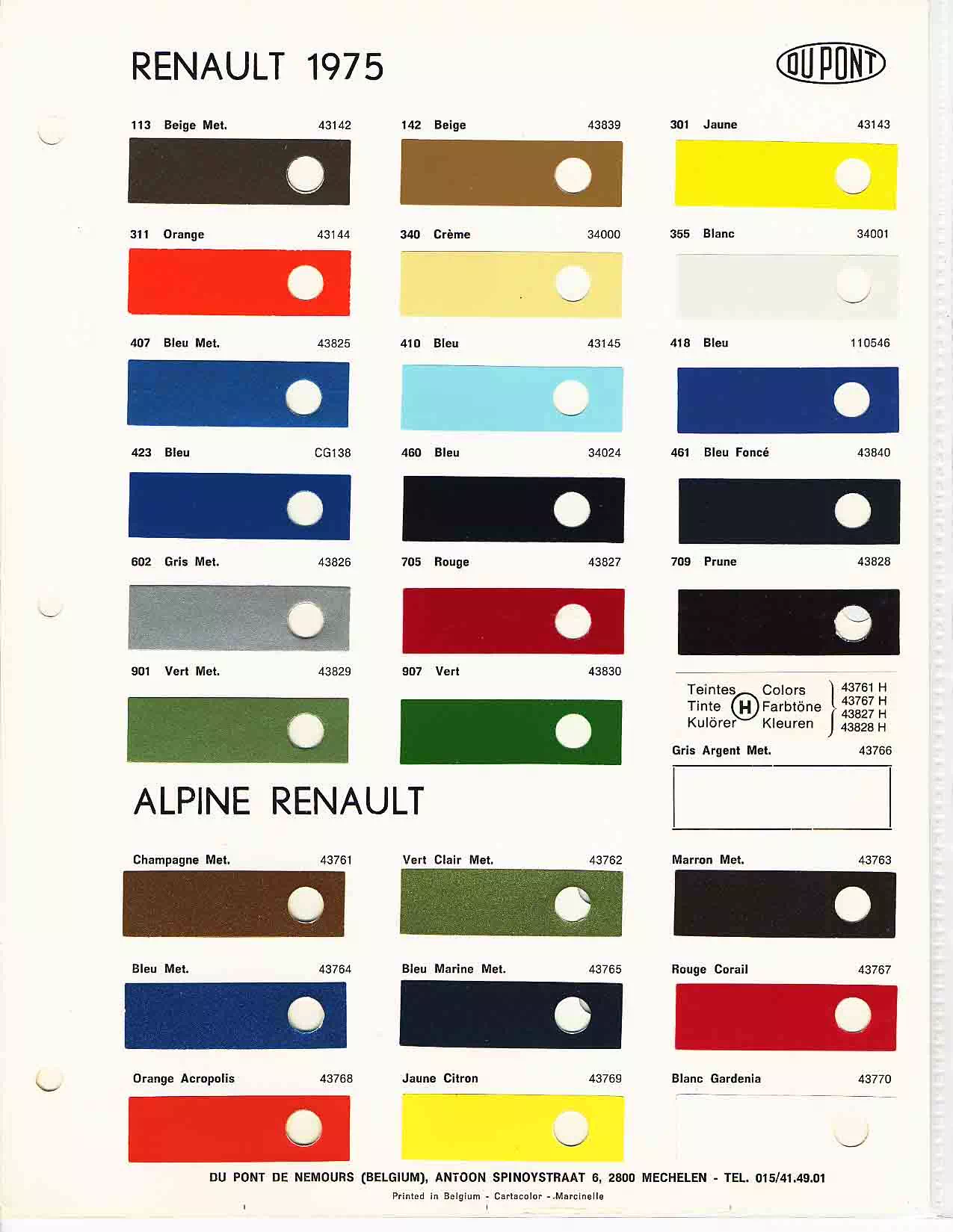 1973 Renault Paint Codes & Color Chart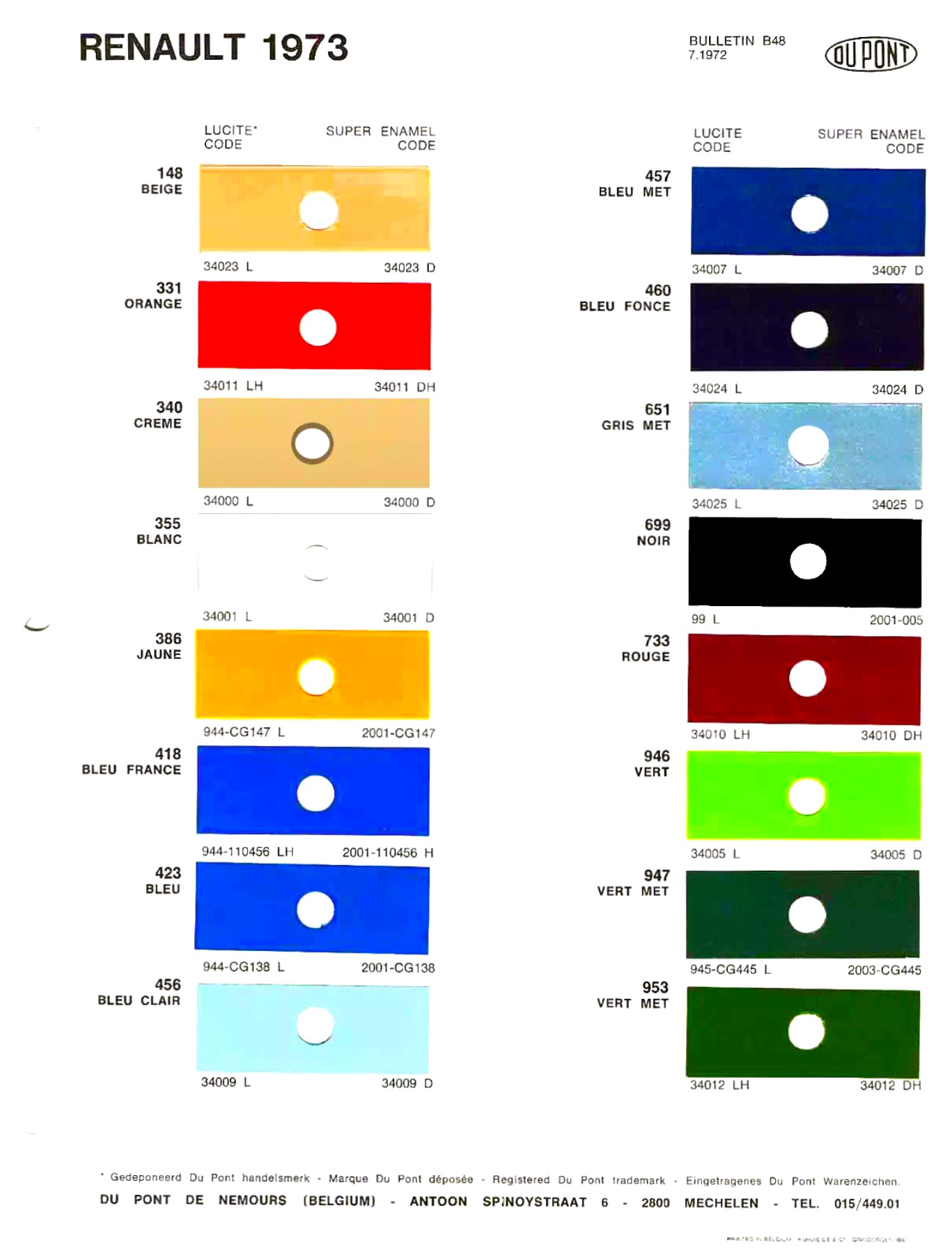 1970 Renault Paint Codes & Color Chart
1969 Renault Paint Codes & Color Chart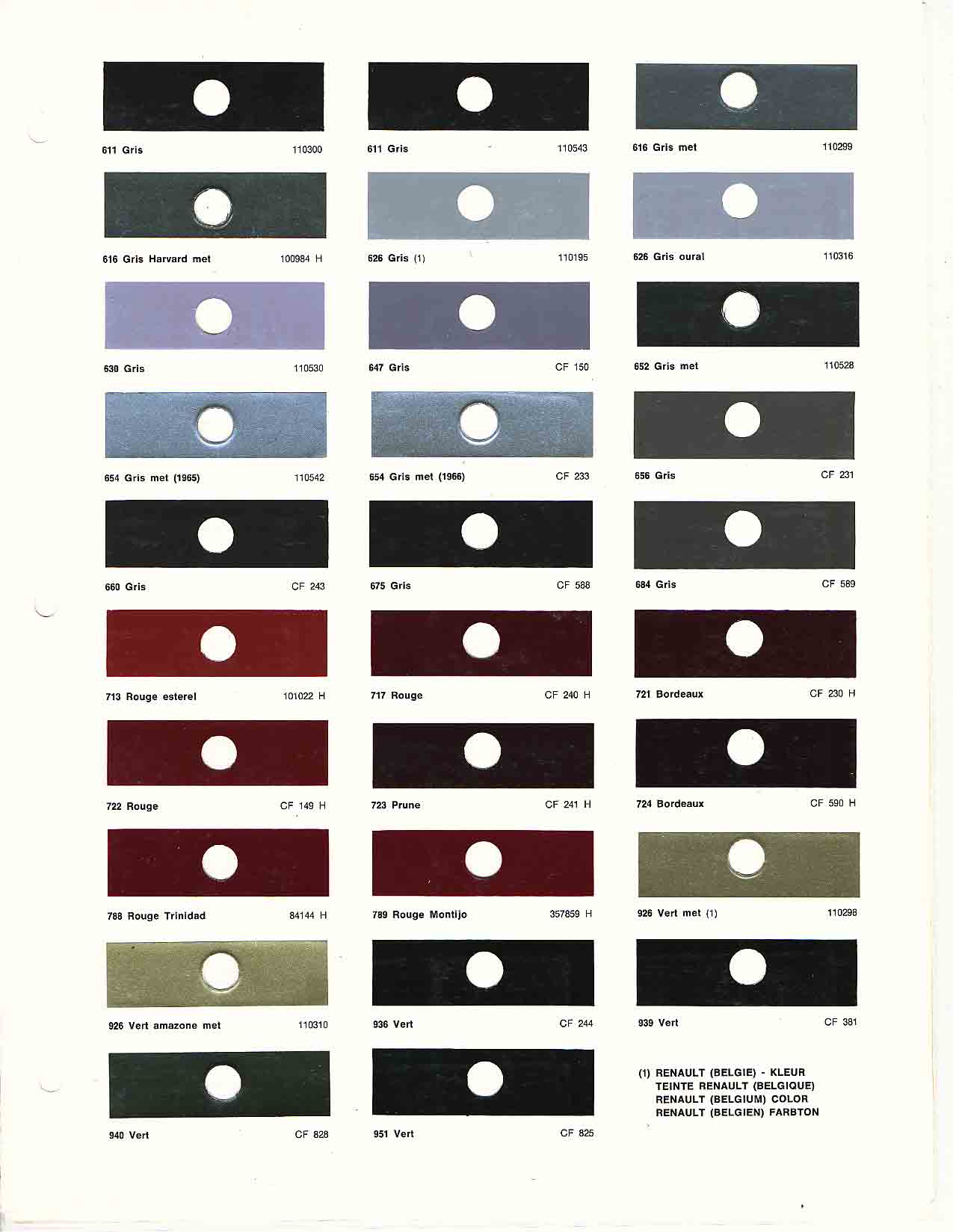 1966 to 1971 Renault Paint Codes & Color Chart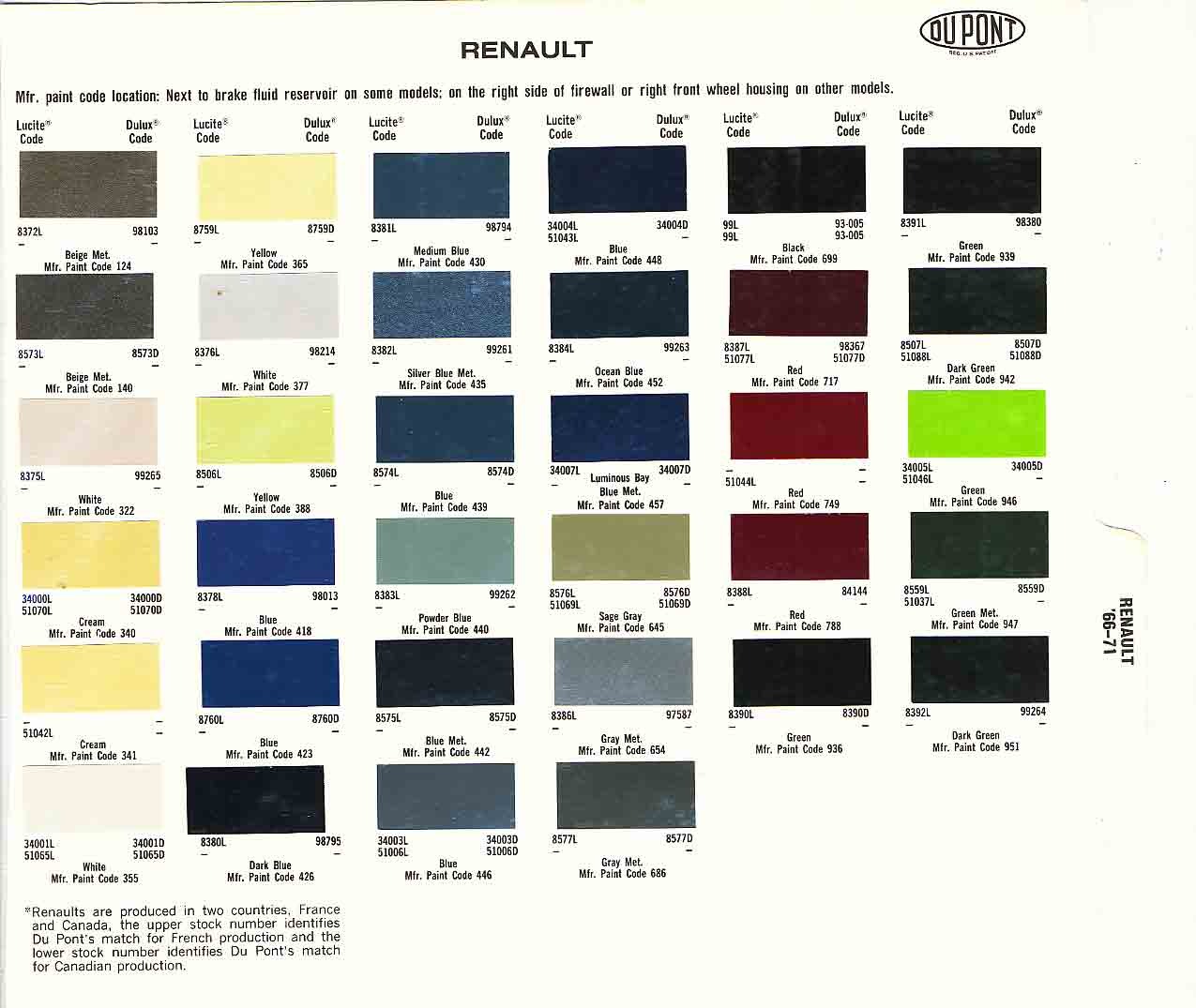 1969 Renault Paint Codes & Color Chart

1968 & 1969 Renault Paint Codes & Color Chart
1967 Renault Paint Codes & Color Chart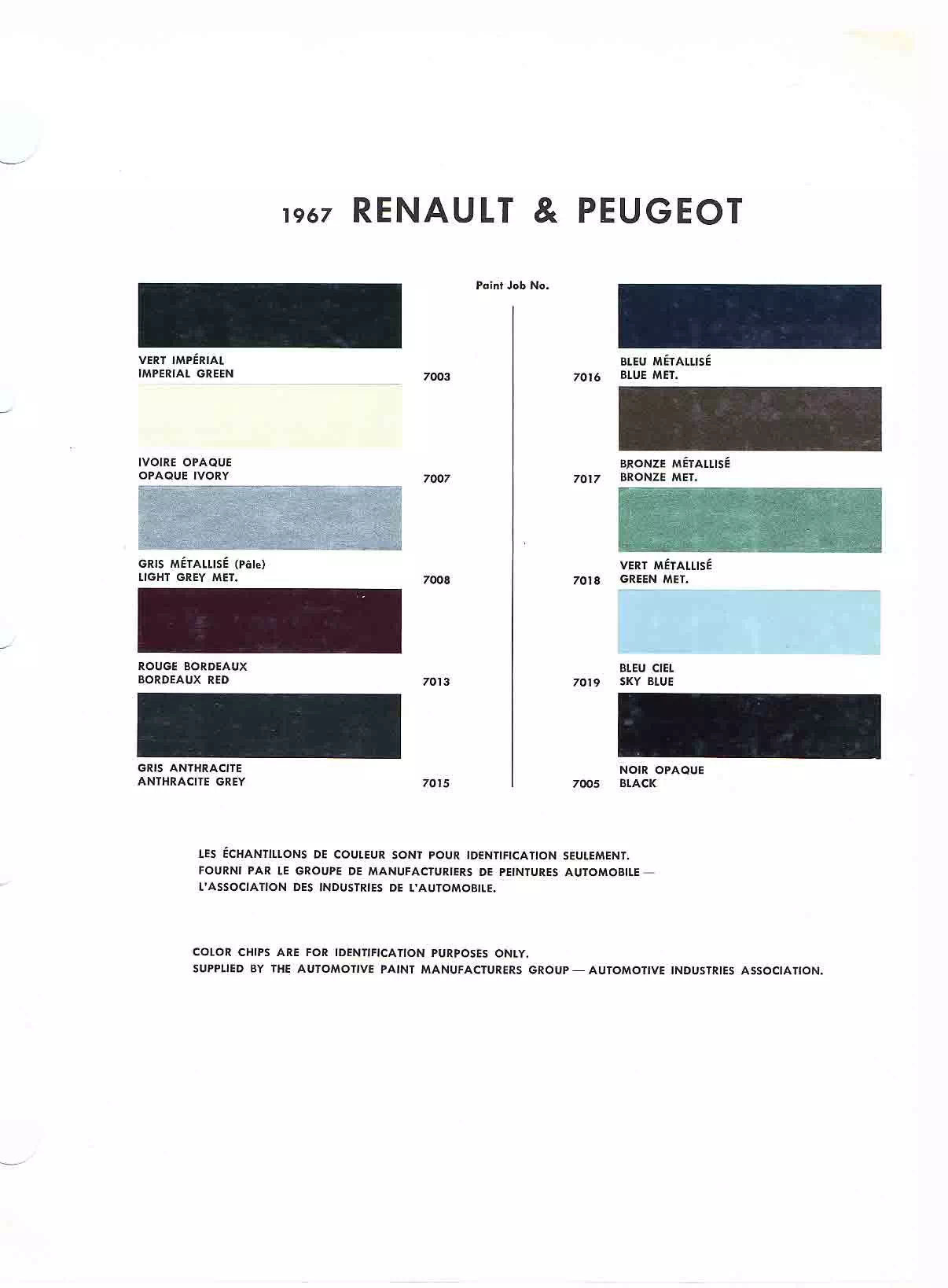 1964 - 1968 Renault Paint Codes & Color Chart
1962 Renault Paint Codes & Color Chart
1958- 1961 Renault Paint Codes & Color Chart
1957, 1958, 1959, 1960, 1961 Renault Paint Codes & Color Chart
1957, 1958, 1959, 1960, 1961 Renault Paint Codes & Color Chart